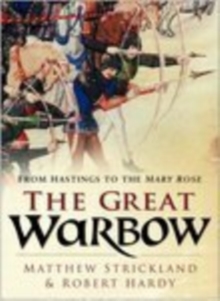 The Great Warbow : From Hastings to the Mary Rose
Hardback
Description
From before the Domesday Book, through Anglo-Saxon England, medieval Wales and Ireland, the crusades, Bannockburn and the Wars of the Roses, until the time of the Tudors, this book takes us on a wide-ranging and fascinating journey through history.
Tactics, myths, origins, defence and armour are all discussed; as are the different types of bow - shortbow, longbow, composite bows and crossbow.
Crucial to our understanding of archery through the ages was the discovery of the wreck of the Mary Rose.
Built during Henry VIII's reign, she sank in 1545 and it was not until 1979 that a great discovery was made.
On board were chests of bows, many in excellent condition, which challenged ideas of historical bow design.
Robert Hardy was one of the experts consulted when the bows were found.
From this evidence, as from archaeological finds and medieval illustrations, Robert Hardy and Matthew Strickland have produced the definitive work on medieval military archery.
This lively and informative book is a must-read for anyone interested in the historical background of the great warbow.
Information
Format: Hardback
Pages: 560 pages
Publisher: The History Press Ltd
Publication Date: 23/02/2005
Category: Weapons & equipment
ISBN: 9780750931670