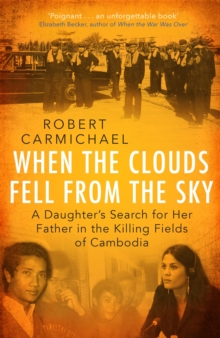 When the Clouds Fell from the Sky : A Daughter's Search for Her Father in the Killing Fields of Cambodia
Hardback
Description
'Like Auschwitz, like Stalin's purges, the mass murders of the Khmer Rouge are one of those extraordinary events that make us wonder about the human capacity for evil.
Through a profoundly moving tale that weaves together the connected stories of a victim, his surviving family, and members of the regime, Robert Carmichael brings us into the heart of the darkness that took over Cambodia, bringing it alive in the way no mere statistics can.
I've not seen a comparable book about these horrors.'Adam Hochschild, award-winning author of King Leopold's Ghost'What does it mean to say two million people lost their lives during the years of Khmer Rouge rule?
The true answer can only be told in microcosm, as Robert Carmichael has done in this intimate and heartbreaking story of the disappearance of one man, and the decades of suffering that followed as his family searched for answers.'Seth Mydans, former Southeast Asia correspondent for the New York Times'As moving as it is well researched.
Robert Carmichael's sharp prose and depth of knowledge of Cambodia's history transforms a daughter's search for her missing father into a nation's journey to find peace and reconciliation with its brutal history of genocide.'Loung Ung, author of First They Killed My FatherDuring the Khmer Rouge's four-year reign of terror, two million people died in Cambodia.
In describing one family's quest to learn their husband's and father's fate and the war crimes trial of Comrade Duch, who ran the notorious S-21 prison in Phnom Penh, When the Clouds Fell from the Sky illuminates the tragedy of a nation. Having been found responsible for the deaths of more than 12,000 people, Duch was the first Khmer Rouge member to be jailed for crimes committed during Pol Pot's catastrophic 1975-9 rule during which millions were executed or died from starvation, illness and overwork.
The Khmer Rouge closed Cambodia's borders, barred all communication with the outside world and sought to turn the clock back to Year Zero.
They outlawed religion, markets, money, education and even the concept of family. But the revolution soon imploded, driven to destruction by the incompetence and paranoia of the leadership.
Like hundreds of others, when he returned in 1977, Ouk Ket was utterly unaware of the terrors being wrought in the revolution's name. Carmichael has woven together the stories of five people whose lives intersected to traumatic effect: Duch; Ket's daughter, Neary, who was just two when her father disappeared; Ouk Ket himself; Ket's French wife, Martine; and Ket's cousin, Sady, who never left Cambodia and still lives there today. Through these personal stories and months spent following Duch's trial, Carmichael extrapolates from the experience of one man to tell the story of a nation.
In doing so, he reaffirms the value of the individual, countering the Khmer Rouge's nihilistic maxim that: 'To keep you is no benefit, to destroy you is no loss.'
Information
Format: Hardback
Pages: 368 pages, Mono plate section and two mono maps.
Publisher: Little, Brown Book Group
Publication Date: 01/08/2019
ISBN: 9781472143747
Free Home Delivery
on all orders
Pick up orders
from local bookshops
Also by Robert Carmichael