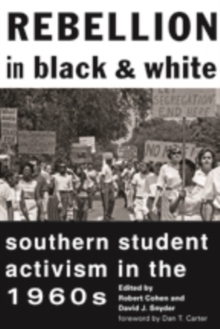 Rebellion in Black and White : Southern Student Activism in the 1960s
Paperback / softback
Description
Rebellion in Black and White offers a panoramic view of southern student activism in the 1960s. Original scholarly essays demonstrate how southern students promoted desegregation, racial equality, free speech, academic freedom, world peace, gender equity, sexual liberation, Black Power, and the personal freedoms associated with the counterculture of the decade.
Most accounts of the 1960s student movement and the New Left have been northern-centered, focusing on rebellions at the University of California, Berkeley, Columbia University, and others. And yet, students at southern colleges and universities also organized and acted to change race and gender relations and to end the Vietnam War.
Southern students took longer to rebel due to the south's legacy of segregation, its military tradition, and its Bible Belt convictions, but their efforts were just as effective as those in the north.
Rebellion in Black and White sheds light on higher education, students, culture, and politics of the American south.
Edited by Robert Cohen and David J. Snyder, the book features the work of both seasoned historians and a new generation of scholars offering fresh perspectives on the civil rights movement and many others. Contributors: Dan T. CarterDavid T. FarberJelani FavorsWesley HoganChristopher A. HuffNicholas G. MeriwetherGregg L. MichelKelly MorrowDoug RossinowCleveland L. Sellers Jr.Gary S. SprayberryMarcia G. SynnottJeffrey A. TurnerErica WhittingtonJoy Ann Williamson-Lott
Information
Format: Paperback / softback
Pages: 368 pages, 12 Illustrations, black and white
Publisher: Johns Hopkins University Press
Publication Date: 01/05/2013
Category: Students & student organisations
ISBN: 9781421408507
Free Home Delivery
on all orders
Pick up orders
from local bookshops