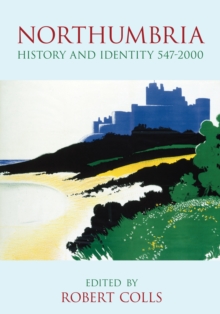 Northumbria : History and Identity 547-2000
Paperback / softback
Description
THE NORTH EAST is probably England's most distinctive region.
A place of strong character with a very special sense of its past, it is, as William Hutchinson remarked in 1778, `truly historical ground'.
This is a book about both the ancient Anglian kingdom of Northumbria, which stretched from the Humber to the Scottish border, and the ways in which the idea of being a Northumbrian, or a northerner, or someone from the `North East', persisted in the area long after the early English kingdom had fallen.
It examines not only the history of the region, but also the successive waves of identity that history has bestowed over a very long period of time. Northumbria existed before `England' began but is with us still in name, and in the way we think about ourselves.
A series of sections, entitled Christian Kingdom, Borderland and Coalfield, New Northumbria, Cultural Region and Northumbrian Island, explore the region on the grand scale, from its very beginning, and bring a sharp sense of history to bear on the various threads that have influenced the making of modern regional identity. The book is a work of exceptional scholarship. Never before have so many leading historians addressed together the issues which have affected this special region.
Clearly written, and rich in ideas, chapters explore the physical origins of Northumbria and consider just how the pressing political and military claims of adjoining states shaped and tempered it.
There are further chapters on art, music, mythology, dialect, history, economy, poetry, politics, religion, antiquarianism, literature and settlement.
They show how Northumbrians have lived and died, and looked forward and back, and these accounts of the North East's past will surely help in the shaping of its future.
Information
Format: Paperback / softback
Pages: 392 pages
Publisher: The History Press Ltd
Publication Date: 26/02/2019
Category: Local history
ISBN: 9780750990431
Free Home Delivery
on all orders
Pick up orders
from local bookshops