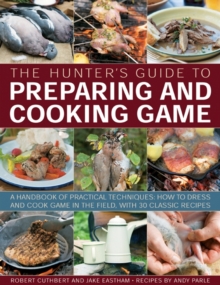 The Hunter's Guide to Preparing and Cooking Game : a Handbook of Practical Techniques : How to Dress and Cook Game in the Field, with 30 Classic Recipes
Paperback / softback
Description
This is a handbook of practical techniques: how to dress and cook game in the field, with 30 classic recipes.
It is an illustrated guide on how to dress, butcher and cook wild game, including upland birds and waterfowl, small furred game, small and large deer, wild boar and goat.
It is a valuable resource for the hunter who shoots game as well as those who buy their game but want to prepare it themselves, with instructions on plucking, drawing, filleting, skinning and jointing all the animals featured.
Techniques and projects are shown in step-by-step photographs, making the tasks absolutely clear.
It includes 30 fabulous recipes adapted for preparing on a camp fire, with instructions on cooking game outside.
This book celebrates the deep satisfaction and pleasure to be found in hunting, prepping and eating wild game.
This book is a complete guide to preparing and cooking game, whether it's a hard-won kill, or a field-fresh purchase from a game merchant. Illustrated sequences take you through every stage of butchery: plucking and trussing a whole bird for roasting for example, filleting a partridge breast, de-boning a haunch of venison, skinning a rabbit, or trimming a rack of boar ribs.
There is also a wealth of advice on storing, hanging and cooking these delectable meats, including hints and tips on traditional accompaniments.
With 30 delicious recipes featuring both classic and contemporary dishes, all cooked in the field on a camp fire or hot coals, this book contains everything the lover of game needs.
Information
Format: Paperback / softback
Pages: 160 pages, over 760 photographs
Publisher: Anness Publishing
Publication Date: 18/03/2013
Category: Cooking with meat & game
ISBN: 9781780192444
Free Home Delivery
on all orders
Pick up orders
from local bookshops
Also by ROBERT CUTHBERT