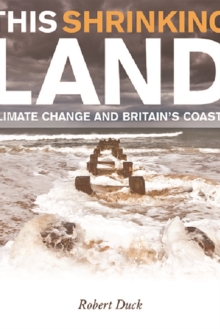 This Shrinking Land : Climate Change and Britain's Coasts
Paperback / softback
Description
'The oceans are the graveyards of the lands.' Lands become eaten away by the action of the seas, and it is no surprise to find that most of the world's shorelines are in a state of erosion.
The fringes of Britain, its cliffs and beaches, are shrinking, disappearing into the surrounding sea as a result of coastal flooding, erosion and landsliding.
Is climate change speeding up the process; are our homes, our villages and towns, at risk?
This book examines how the British coast is changing and why - and what is being done to protect this island nation.
Are we doing enough? Should we abandon vulnerable towns and villages to the seas as our forebears did and relocate coastal settlements inland?
These are some of the difficult and potentially emotive questions that this book explores.
Blending contemporary earth science and societal themes with historical and cultural records, and a hint of myth and romance for good measure, This Shrinking Land is a fascinating study of what we must learn from the past in order to manage the future of Britain's coasts.
With more than 100 illustrations, most of them in colour, this is a stunning book.
Information
Format:Paperback / softback
Pages:223 pages, Illustrations (chiefly col.), maps
Publisher:Dundee University Press Ltd
Publication Date:09/05/2011
Category:
ISBN:9781845861186
Also by Robert Duck