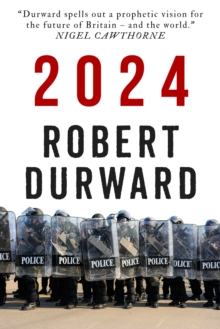 Twenty Twenty-Four
Hardback
Description
In the late 1940s, George Orwell took an inspired look at post-war Europe and gave us his chilling novel Nineteen Eighty-Four.
It is now time to look into the future again...As it turned out, when 1984 did come around, most people were busy fiddling with Rubik's cubes or watching Torvill and Dean win gold at Sarjevo.
However, the dark forebodings of Orwell's vision were almost upon us.We now have many of the things experienced by Winston Smith - constantly being watched on CCTV, GPS that track you, social media that can rapidly become a frenzied and personal hate-storm - but other even more nasty stuff is coming down the track. Robert Durward combines front line experience with historical events and current affairs - from Magna Carta to Brexit - to produce an Orwellian forecast of life in 2024.Are we heading for financial Armageddon? Will Donald Trump kill or cure America? Will the return of the far-Right lead to fascism in Europe? Will militant Islam overwhelm the weak West?2024 analyses past events and current affairs to develop an intriguing and compelling portrayal of the future.
Nothing is left out of Durward's blueprint for the society, politics and technology of tomorrow.
Free Home Delivery
on all orders
Pick up orders
from local bookshops