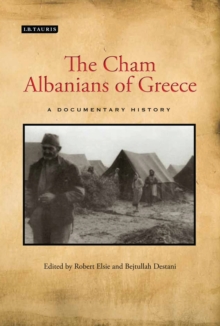 The Cham Albanians of Greece : A Documentary History
Hardback
Description
Despite the extensive analysis of the historical, political and legal background of many Balkan conflicts in recent years, little attention has been paid to the tragedy of the Cham ethnic community.
In 1913 the commission entrusted by the London Conference of Ambassadors to define the southern borders of the newly created state of Albania ended its proceedings with the Protocol of Florence, which provided that the territories inhabited by almost half of the Albanian population were exempted from the boundaries of the new state.
While nearly 800,000 inhabitants found themselves within the new state of Albania, the territories inhabited by the remaining 700,000 ethnic Albanians became constituent parts of Serbia and Greece - the winners of the Balkan Wars.
The land of the Chams, a coastal area between southern Albania and north-west Greece known as 'Chameria', was entirely incorporated into Greece. Since that time, the predominantly Muslim Chams have faced severe persecution and forced expulsion from their homes in Greece, particularly under the Metaxas regime, when the Chams were prohibited from using their own language outside of their home, and also during World War II, when Chams were persecuted in retaliation for their collaboration with the Axis powers.
In the aftermath of World War II, the continued persecution of the Chams forced many to return to Albania, or to seek refuge in Turkey or the United States with the result that, after the war, only just over 100 Muslim Cham Albanians were left in Greece.
In recent years, following the collapse of communism in Albania, when foreign travel again became possible, many have sought to return to their homelands in Greece and to regain their property.
The documents gathered together in this book consist of records of the League of Nations and the British Mission, as well as documents assembled by other diplomatic missions between 1913 and the 1960s.
Together, they address all of the periods of forced expulsions of the Cham population from Greece. The publication of these documents provides an unparalleled historical record of the Cham story.
This book will be essential reading for scholars of Balkan history, politics and human rights.
It will provide a fascinating insight into one of the forgotten tragedies of the twentieth century.
Information
Format: Hardback
Pages: 288 pages
Publisher: I.B.Tauris & Co. Ltd.
Publication Date: 18/12/2012
Category: European history
ISBN: 9781780760001
Free Home Delivery
on all orders
Pick up orders
from local bookshops