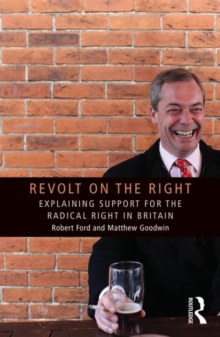 Revolt on the Right : Explaining Support for the Radical Right in Britain
Paperback
Description
Winner of the Political Book of the Year Award 2015 The UK Independence Party (UKIP) is the most significant new party in British politics for a generation.
In recent years UKIP and their charismatic leader Nigel Farage have captivated British politics, media and voters.
Yet both the party and the roots of its support remain poorly understood.
Where has this political revolt come from? Who is supporting them, and why? How are UKIP attempting to win over voters? And how far can their insurgency against the main parties go?
Drawing on a wealth of new data - from surveys of UKIP voters to extensive interviews with party insiders - in this book prominent political scientists Robert Ford and Matthew Goodwin put UKIP's revolt under the microscope and show how many conventional wisdoms about the party and the radical right are wrong.
Along the way they provide unprecedented insight into this new revolt, and deliver some crucial messages for those with an interest in the state of British politics, the radical right in Europe and political behaviour more generally.
Information
Format: Paperback
Pages: 336 pages, 24 black & white illustrations, 39 black & white tables, 24 black & white line drawings
Publisher: Taylor & Francis Ltd
Publication Date: 18/03/2014
Category: Nationalism
ISBN: 9780415661508
Other Formats
Hardback from £74.39
EPUB from £15.29
PDF from £15.29
Free Home Delivery
on all orders
Pick up orders
from local bookshops
Reviews
Showing 1 - 2 of 2 reviews.
Review by JonArnold
16/06/2015
UKIP have made an impact on British politics equalled only by the SDP in living memory. In just over 20 years they've risen from a group of academics clueless about the mechanics of politics to an organisation which has made breakthroughs in local and European elections, but as yet has no impact on the national political scene. Ford and Goodwin's book divides into two sections. The first couple of chapters are a very readable and fascinating history of the party, detailing the often fractious nature of the party and their often surprising levels of naivety. It's a juicy account which veers easily into comedy at times. The second section, the bulk of the book, is by necessity more heavy going, as it seeks to analyse the party's history and support and is thus heavy on data and tables. This is fascinating stuff as it draws some slightly surprising conclusions, not least on UKIP's appeal to traditional Labour support, the working class. It outlines their successes and failures and where they have and haven't learned from them and where they might get better results in the future. In that sense it's a potentially dangerous book as it's an outline to other radical parties as to how they might best play the British electoral system. Ford and Goodwin are excellent on the point that while it remains a reassuring bulwark against the rise of parties advocating extreme views, that system now fails to provide adequate representation for a growing swathe of society; a power gap UKIP are happy to exploit.After exploring the history and rise of the party the authors ask questions as to where UKIP go next, what would happen if their main purpose was accomplished and whether they could sustain any hint of power. Again, it's a thoughtful section which raises issues for UKIP and the wider political scene.An intelligent analysis which cuts through the hot air generated by both UKIP and its opponents. Sadly for UKIP, if the author's conclusions hold true, few of their supporters will be reading it to gain a perspective.
Review by aadyer
27/08/2015
A very good, relatively concise look at the rise, development of, social changes supporting, & voter intentions of the United Kingdom Independence Party. Starting from its roots as an academic protest & pressure group to its position in the mainstream, on the right of the current Conservative party, this is a fascinating, evidence based account of the phenomenon that has shaken British politics for the first time in about two generations. Comparison with the SDP are made in the 1980's & both the similarities & differences to the trajectory of their existence are discussed. The book spends some time looking at the sociological changes in modern Britain & why they are providing some fertile & ample ground for the UKIP to develop. Very interesting, very informative & very helpful for all of those who want to have some idea about what may happen at the next British General election in May 2015. In all honesty, there was some repetition here, about two thirds of the book was fascinating. I would certainly say the last two chapters were key to understanding the Central message. Some of the Middle two quarters could be discarded. A valuable insight into an aspect of the political world that is developing.
Also in the Extremism and Democracy series | View all