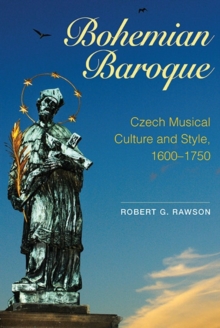 Bohemian Baroque - Czech Musical Culture and Style, 1600-1750
Hardback
Description
Traditional polemical histories of Bohemia and Moravia identify the period from the early seventeenth to the mid-eighteenth century as a "period of darkness" - particularly in terms of Czech-language culture.
This book challenges that interpretation from the perspective of musical culture and demonstrates that this was actually a vibrant, productive and innovative period, both for music in the Czech language and instrumental music.
By focussing on the distinctive nature of Czech-language education and devotional traditions (rehabilitated along Catholic lines after the Thirty Years War), the book reveals a new understanding of Czech musical practices and repertoires as a beguiling blend of the older, non-conformist, vernacular traditions with the new, theatrical, Italian styles and genres.
Drawing on a broad range of genres including sonatas, concertos, oratorios, Passion music, masses, motets, litanies and operas, Bohemian Baroque reveals a fascinating culture and repertoire that have long been overlooked. In the Czech lands, seventeenth-century courtly life emerged in a much different way from many other European countries.
Bohemian Baroque underscores the prominent role of rural life in shaping musical culture more broadly in Bohemia and Moravia and consequently draws attention to the works and environments of composers whose careers were primarily in the Czech lands (in contrast to the traditional focus on more famous emigre composers).
The book also considers the influence of Germanic traditions on Czech musical culture; several areas of overlap reveal newly identified examples of shared repertoires-in some cases, German and Czech even appear within a single work.
Taken as a whole, Bohemian Baroque posits a new paradigm in which received notions of "Czechness" in the musical culture of the seventeenth and eighteenth centuries might be reconsidered. Bohemian Baroque will be required reading for anyone interested in the music of the Habsburg Empire and Central Europe, cultural history, or baroque music more generally.
Students and scholars of musical style and music and identity will equally find much of interest here. Robert G. Rawson is Reader in Musicology and Performance at Canterbury Christ Church University.