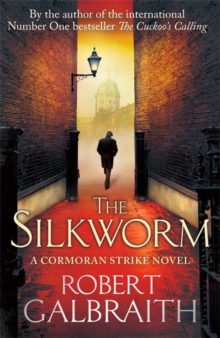 Description
When novelist Owen Quine goes missing, his wife calls in private detective Cormoran Strike.
At first, she just thinks he has gone off by himself for a few days - as he has done before - and she wants Strike to find him and bring him home. But as Strike investigates, it becomes clear that there is more to Quine's disappearance than his wife realises.
The novelist has just completed a manuscript featuring poisonous pen-portraits of almost everyone he knows.
If the novel were published it would ruin lives - so there are a lot of people who might want to silence him. And when Quine is found brutally murdered in bizarre circumstances, it becomes a race against time to understand the motivation of a ruthless killer, a killer unlike any he has encountered before ...A compulsively readable crime novel with twists at every turn, The Silkworm is the second in the highly acclaimed series featuring Cormoran Strike and his determined young assistant Robin Ellacott.
Information
Format: Hardback
Pages: 464 pages
Publisher: Little, Brown Book Group
Publication Date: 19/06/2014
Category: Crime & mystery
ISBN: 9781408704028
Other Formats
Paperback from £7.85
EPUB from £4.99
CD-Audio from £25.39
Free Home Delivery
on all orders
Pick up orders
from local bookshops
Reviews
Showing 1 - 5 of 6 reviews.
Previous | Next
Review by Mikalina
16/06/2015
Gore with a twist. I cannot but be disappointed that Rowling has fallen into the trap of selling by the sensational horrible. It helps a bit if you read the book as a snide criticism of the same; the portraits of the publishing and literary circle being the setting - or as a parody of the many, many crime series in books and on screen that has the stirring of the reader´s senses by the horrible, the gruesome, the inhuman as the focal point. Rowling is strong on plot, and she understands the psychology of the narcissistic personality, rage included. By introducing a Rose-West factor she does nothing but cloud her own craftmanship and literary genius.
Review by Eyejaybee
16/06/2015
I never really felt at home with this book. I certainly enjoyed its predecessor, and 'The Casual Vacancy' which J K Rowling published under her own name. I found this one slow to start, and actually felt rather relieved when I managed to finish it.As with 'The Cuckoo Calling' the protagonist is amputee, near-celebrity war veteran Cormoran Strike who is still trying to make his way as a private detective, ably assisted by Robin, his much put-upon PA who is eager to get away from the office and make a constructive contribution to Strike's cases. Strike is retained by Leonora Quine to find her missing husband, failed novelist Owen, who had disappeared ten days earlier. As Strike delves more deeply it emerges that Quine's latest novel is a potentially libellous attack on a number of prominent figures within the publishing industry, including Quine's own publishing house. Passions are running high and everyone who has read the manuscript seems to have it in for Quine.Sadly I felt that Galbraith-Rowling had lost her way a bit with this book. While I found its predecesor gripping, I found that I had no interest in the denouement of this story, and it did become a bit of a burden. Still, I am glad I finished it, but I shall be less eager in future to venture into Rowlingland.
Review by infjsarah
16/06/2015
I thoroughly enjoyed this book. The style was much more obviously Ms Rowling's. Now she's been "outed" she doesn't have to hide it anymore!But this has great characters and a clever plot. And the literary world gets a serious kicking - Ouch - some carving up of people in the book world. Very enjoyable.
Review by adpaton
16/06/2015
Parents as well as their children dreaded the end of the Harry Potter epic - come on, you know you did - so the reincarnation of JK Rowling as Robert Galbraith is excellent news. The Silkworm is the second in the series featuring one-legged war hero-turned detective Comoran Strike, this time investigating the bizarre murder of a poison-pen writer Owen Quine. Great fun.
Review by pierthinker
16/06/2015
This is the second crime thriller from J. K. Rowling writing as Robert Galbraith and featuring the private investigator Cormoran Strike and his assistant Robin Ellacourt.
Also in the Cormoran Strike series | View all