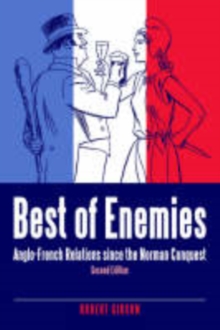 Best of Enemies : Anglo-French Relations Since the Norman Conquest
Paperback / softback
Description
Republished for the centenary of the Entente Cordiale, this new edition of Best of Enemies gives an entertaining and perceptive overview of Anglo-French relations.
Updated to include the Anglo-French disagreements over the second Gulf War, this is an extensively revised edition of a book that was widely praised when it first appeared in 1995.
Robert Gibson gives a lucid and lively account of the love-hate relationship between the English and the French that has lasted for more than a thousand years.
Richly illustrated with cartoons from both sides of the Channel, this intelligent and well-documented study will appeal to anyone interested in the history of English and French relations.
Reviews of the previous edition "Best of Enemies is a thoroughly absorbing - and at times hilarious - study of 800 years of hostilities and misunderstandings between our nations." Tom Hibbert, The Mail on Sunday "Copious quotation plus a pleasingly crisp style combine to make this a very attractive and readable volume.
Just the thing to consult en route to the gite."Michele Roberts, The Independent "This is a readable and scholarly enhancement of the understanding of our diplomatic and military history over nearly a thousand years." Alan Clark, The Daily Telegraph "[A] highly readable account of Anglo-French relations over the past millennium . the perspectives Gibson offers are welcome and timely." A.C.
Grayling, The Financial Times
Information
Format: Paperback / softback
Pages: 340 pages, 30 halftone illustrations
Publisher: Impress Books
Publication Date: 23/02/2005
Category: European history
ISBN: 9780954758608