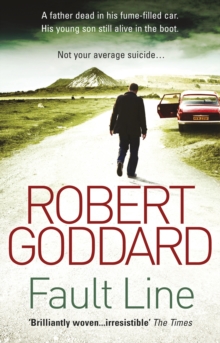 Description
It could be your average suicide. A man found dead in his car, engine running, parked at the end of a lonely track, a tube feeding deadly fumes from the exhaust through the window.
Except for the seven-year-old boy still breathing in the boot...For Jonathan Kellaway, the past is somewhere he chooses not to go.
Dead friends, lost lovers and a family dynasty hell-bent on self- destruction lie buried there.
But if he is to uncover the truth, he must confront all the secrets which have consumed his life, and which may yet consume him...
Information
Format: Paperback
Pages: 512 pages
Publisher: Transworld Publishers Ltd
Publication Date: 01/08/2012
Category: Crime & mystery
ISBN: 9780552161381
Free Home Delivery
on all orders
Pick up orders
from local bookshops
Reviews
Showing 1 - 5 of 6 reviews.
Previous | Next
Review by Carolinejyoung
16/06/2015
When I first started reading this book I thought it was going to be similar to The Girl with the Dragon Tattoo due to the family tree at the start of the book. It turned out to be much less complicated to follow who's who and, despite involving business negotiations, was a lot easier to understand. That's where the comparison ends though as the plot of this book, although interesting, is not exciting. I lost interest a bit when the kidnapping took place so I'm hoping that it will have regained my interest now that I'm near the end. Finished it now and overall would say it's a good book albeit a little bit long for me.
Review by smik
16/06/2015
Even though many of his stand alone novels follow the same pattern, I have always found Robert Goddard a reliable "read" and FAULT LINE is no exception.First of all it seems that the pattern works: often, as in FAULT LINE, a triple timeline/scenario. In this case events that happened about half a century ago; then a step forward in time to about 20 years ago; then a crisis in recent times that throws a different light on those distant events. This plot strategy gives Goddard plenty of scope for character development and for throwing in elements of doubt. The recent events allow for threatening situations, with secrets that some characters don't want revealed. And just when you think you've got it all sorted, the plot twists again.The stories become versions of family sagas with mysteries and sometimes murders thrown in. And Goddard manages the historical settings so well.The narration by Philip Franks in this audio version is superb.
Review by LARA335
16/06/2015
I have read most (all?) Robert Goddard novels. I was the most impressed by his earlier works, but then maybe I am now more aware of the formula: a middle-aged chap reluctantly becomes involved in discovering the answer to a mystery, usually delving back into the past, with a bit of travel thrown in.I was disappointed when all-became-clear in Fault line, and didn't believe the point of the quest. But as usual I enjoyed the settings, both in the past and in Capri/Naples. And I was pleased that Jonathan, this novel's mature mystery-solver wasn't quite so downtrodden and put upon as Goddard's usual chaps.
Review by AnneBrooke
16/06/2015
This is quite simply Goddard at his rip-roaring best. The plot twists never stop, and the characters are fabulous. Our retirement age hero, Jonathan, is utterly charming, and an excellent voice of reason and indeed honour in the commercial dodgy dealings going on around him. The storyline flows excellently between past and present, it's an exciting and nail-biting ride, and the ending is perfect.Plus - oh joy - Goddard seems to have moved away from the dull femme fatale cliche he tends to use in weaker books, so that's a great delight to see. Great stuff.
Review by oldstick
16/06/2015
For some reason I didn't care what happened in this novel. I don't know whether it was the character, the plot or the flashbacks. I won't stop reading Goddard but this did not impress me as much as some of his other works.