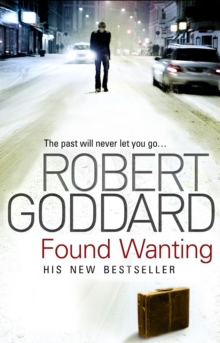 Description
The car jolts to a halt at the pavement's edge, the driver waving through the windscreen to attract Richard's attention.
He starts with astonishment. The driver is Gemma, his ex-wife. He has not seen or spoken to her for several years.
They have, she memorably assured him the last time they met, nothing to say to each other.
But something has changed her mind - something urgent... Immediately Richard is catapulted into a breathless race against time that takes him from London, across northern Europe and into the heart of a mystery that reaches back into history - the fate of Anastasia, youngest daughter of Tsar Nicholas II, the last of the Romanovs.
From that moment, Richard's life will be changed for ever in ways he could never have imagined...
Information
Format: Paperback
Pages: 480 pages
Publisher: Transworld Publishers Ltd
Publication Date: 01/09/2009
Category: Thriller / suspense
ISBN: 9780552159852
Free Home Delivery
on all orders
Pick up orders
from local bookshops
Reviews
Showing 1 - 4 of 4 reviews.
Review by AHS-Wolfy
16/06/2015
Richard Eusden is a bored civil servant working at the Foreign Office in London and desperately wants some excitement in his life. Along comes Gemma, his ex-wife, to provide him with some. She has been tasked by her other ex-husband and Richard's life-long friend, Marty Hewitson, to deliver an attaché case to him in Brussels. Seeing as he hasn't seen Marty since he skipped the country while on bail, which Richard put the money up for, and add in the fact that Marty now has an inoperable tumour, Richard agrees and sets off on the errand that will forever change his life.Richard finds out that the case holds documents that may bring to light the fate of the last of the Romanovs and that they could be worth a fortune. Betrayals and double-crosses abound in this country hopping twist of a story, passing though Belgium and onto Germany, Denmark and Finland. The scenery is excellent and it's a shame the story and characters don't match it. Still fairly readable though and the last hundred pages do fly by.
Review by Georg.Miggel
16/06/2015
What can make you read a Goddard between two books from the Millenium series? There is only one reason: You are for vacation in Valletta/Malta, and there is only one bad, dirty and crowded bookshop (called "Agenda" on Republik Triq, [keep in mind: Whenever you go to Malta, provide yourself with books on the Valletta Airport!!]) with all kind of useless books but no Swedish crime novels. Bad luck. I found "Found Wanting" wanting. In the beginning I was somehow relieved that the story is at least set in Denmark and Sweden, but all the same it could not substitute Mikael and The Girl. The language is bad. The characters are lame. The plot is complicated and twisted, but in the end you are not interested in the poor solving of the boring riddles. Even the bad guys are really dumb. You can always take a gun from the murderer because they all are too stupid to hold a gun. The only (half-way) interesting person dies on page 80 (in a church), all Germans (and Danes) are criminal, Helsinki is cold and it always rains in Cologne. You found this review wanting? Read the book and compare, but, please, don't spend money on it.
Review by edwardsgt
16/06/2015
A typical Goddard tale, weaving historical fact with fiction in real settings, this time as diverse as the Isle of Wight to Helsinki, with a hero thrown into a setting in which he has little experience. I always learn something from Goddard's historical facts and real locations with which he sprinkles his stories and find them enjoyable, this was no exception. The basis of the story is the fate of Anastasia, one of the Romanovs, who it is said, survived the massacre suffered by her fellow family members and whose existence was the subject of much international speculation. Goddard skilfully weaves in a visit by the Romanovs to Cowes in 1909, apparently witnessed by a relative of the hero, Richard Eusden's childhood friend Marty, who drags Richard into a search for the truth about Anastasia. Naturally others are equally keen to keep all the Romanov secrets well and truly buried...
Review by cathymoore
16/06/2015
Goddard once again successfully intertwines historic fact with fast-paced fiction. This time the mystery of the last Tsar of Russia and his daughter Anastasia leads our hero, unassuming civil servant Richard Eusden, on a mad dash across northern Europe. Lots of mysterious villains and richly described locations alongside Goddard's customary plot-twists make this a really enjoyable read.