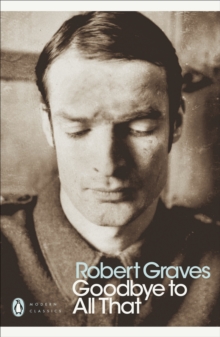 Goodbye to All That
Paperback
Description
An autobiographical work that describes firsthand the great tectonic shifts in English society following the First World War, Robert Graves's Goodbye to All That is a matchless evocation of the Great War's haunting legacy, published in Penguin Modern Classics.In 1929 Robert Graves went to live abroad permanently, vowing 'never to make England my home again'.
This is his superb account of his life up until that 'bitter leave-taking': from his childhood and desperately unhappy school days at Charterhouse, to his time serving as a young officer in the First World War that was to haunt him throughout his life.
It also contains memorable encounters with fellow writers and poets, including Siegfried Sassoon and Thomas Hardy, and covers his increasingly unhappy marriage to Nancy Nicholson.
Goodbye to All That, with its vivid, harrowing descriptions of the Western Front, is a classic war document, and also has immense value as one of the most candid self-portraits of an artist ever written.Robert Ranke Graves (1895-1985) was a British poet, novelist, and critic.
He is best known for the historical novel I, Claudius and the critical study of myth and poetry The White Goddess.
His autobiography, Goodbye to All That, was published in 1929, quickly establishing itself as a modern classic.
Graves also translated Apuleius, Lucan and Suetonius for the Penguin Classics, and compiled the first modern dictionary of Greek Mythology, The Greek Myths.
His translation of The Rubaiyat of Omar Khayyam (with Omar Ali-Shah) is also published in Penguin Classics.If you enjoyed Goodbye to All That, you might like Ford Madox Ford's Parade's End, also available in Penguin Modern Classics.'His wonderful autobiography'Jeremy Paxman, Daily Mail
Information
Format: Paperback
Pages: 288 pages
Publisher: Penguin Books Ltd
Publication Date: 28/09/2000
Category: Autobiography: general
ISBN: 9780141184593
Other Formats
Paperback from £6.85
CD-Audio from £14.59
EPUB from £3.99
Hardback from £7.59
Free Home Delivery
on all orders
Pick up orders
from local bookshops
Reviews
Showing 1 - 4 of 4 reviews.
Review by Highlander99
16/06/2015
One of the best memoirs of The Great War, Grave's Goodbye to All That chronicles his personal experiences in and out of the trenches as a Royal Welsh Fusilier subaltern. A graphic, articulate and sometimes harrowing story with no holds barred, Grave's account was a cathartic tool for his recovery after being severely wounded and evacuated back to Blighty. Highly recommended.
Review by fist
16/06/2015
Robert Graves' autobiography (up to when he was 33) is a mixed bag. His recollections of boarding school and university have been described elsewhere (by Stephen Fry for instance; the conservatism of those institutions means that the 70-year gap between either author's experiences is almost insignificant). The core of the book is Graves' description of serving in the trenches during WWI. No hero adoration, no absolute patriotism, but a man's true impressions of useless carnage. As a man of the Edwardian era, he questions the Victorian values he was brought up with. He considers himself a socialist, somewhat of an internationalist and even a feminist. Today's reader, however, will occasionally be surprised by patronising, racist, or misogynistic phrases, and especially by the boundless sense of entitlement of an English upper class man (throughout his career from public school boy to army officer)that pervades the entire book. Yet the writing is sincere, as the man tries to make sense of old value systems in a new century and the slaughter of millions of his contemporaries.
Review by eleanor_eader
16/06/2015
War poet and novelist Robert Graves' autobiography was something I approached with trepidation. I knew the conditions of the fighting trenches in WWI were abominable, and Graves' dissatisfaction with his country's political machinations, and treatment of war veterans, very great; and for some reason expected a good deal of melancholy reflection and disgusted ranting. Maybe it's the title but, as always when pre-judging a book, I was completely wrong.This is an unsentimental accounting of horrific moments (school and war seem to have made equally negative impressions on him) made palatable by his readiness to take in and then move on from, everything that was thrown at him. Robert von Ranke Graves seems to have been a pragmatic man, for all his poetic prowess, and a writer with a skill for narrative that extends to accounts of his own life, career and family. The book is stuffed with humour, an eye for the absurd, satirical or wry, I was pleased that the relationship between Siegfried Sassoon and Dr. Rivers was mentioned, as I have recently read Pat Barkers amazing <i>Regeneration</i> trilogy and finding them within the pages of <i>Goodbye to all That</i> lent another layer to that story; indeed, brought together by the war, the influential poets and writers of the time are necessarily tied through a system of acquaintanceship, comradeship or deep friendship – I loved the passage where Graves covered a visit he and his wife made to Thomas Hardy, and discovering that T. E. Lawrence resolved to make no money from his own autobiographical <i>Seven Pillars of Wisdom</i> and let Graves, who was then struggling to pay a debt, sell the first four chapters for publication in the states. Other names - some I've read, some I haven't - made this a fragment of writing history as well as war history.Graves' autobiography lends a greater understanding to many of the man's poems – I've come with fresh sadness back to the simple 'Not Dead' among others. I think this is because this fantastic autobiography introduces one far more personally to the elements and people that influenced the author himself.
Review by nigeyb
16/06/2015
It is as a document of World War One that this book really shines. Robert Graves includes a wealth of little details that bring the day-to-day life of him, and his regiment, to life: the gallows humour, the values of the soldiers, the disillusionment with the war and the staff and yet the loyalty to their officers, the lice, the food, the other privations. It's all there in this excellent memoir. Robert Graves also captures the tragedy and waste of the conflict - friends and fellow soldiers dying or getting wounded all the time. Extraordinary luck means that Robert Graves beat the odds and managed to survive but not without injuries and many brushes with death.Goodbye to All That was written in 1929, when Robert Graves was 33 years old. Although primarily known as a memoir about Robert Graves' experience of World War One, in which he served in the Royal Welch Fusiliers, the book opens with his family background, childhood, and education, before - at the outbreak of World War One - he enlists. The book also details his life for the ten years after World War One. Goodbye to All That is an amazing memoir. For such a short volume Robert Graves packs in so much information and detail, and the book really brings alive day-to-day trench life with all its attendant horrors, boredom, pettiness, depravation, cameraderie and humour. Essential reading for anyone who wants to understand what life was like in the trenches.
Also in the Penguin Modern Classics series | View all