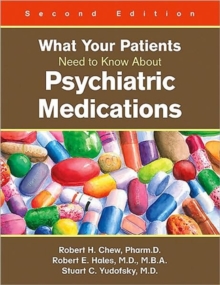 What Your Patients Need to Know About Psychiatric Medications
Paperback / softback
Description
What Your Patients Need to Know About Psychiatric Medications is a compendium of no-nonsense handouts designed to provide patients with essential information on the drugs you prescribe.
It includes all major classes of medications, along with detailed information on specific agents - information that's more in-depth and easier to understand than what can be obtained from pharmacies or found on the Internet.
Just print the handouts from the accompanying CD-ROM and pass them along; your patients will thank you, and gain a better understanding of their treatment regimen. Authored by a pharmacist and two psychiatrists, this book provides patients with accurate, easily understood information about psychiatric medications.
It's organized to answer their most common questions, from dosing to side effects to possible adverse reactions to use in pregnancy and breastfeeding. And its coverage is comprehensive: antianxiety medications, medications for insomnia, antidepressants, monoamine oxidase inhibitors, mood stabilizers, antipsychotics, ADHD medications, cognitive enhancers, and medications to treat alcohol dependence. For each drug, a three-to-five page handout includes facts like generic availability, possible adverse reactions, drug interactions, overdose alerts, and additional considerations such as what to do about missed dosages or whether it's okay to crush tablets or take it with food.
Users of the first edition will find the book has been updated to include not only information on new medications but also enhanced understanding of familiar ones. New to this edition: Section on treatment of alcohol dependence, with coverage of Antabuse (disulfiram), Campral (acamprosate), ReVia (naltrexone), and Vivitrol (naltrexone injection); Separate coverage of stimulants and nonstimulants for ADHD, with new handouts for off-label use of Catapres (clonidine) and Tenex (guanfacine); Coverage of other medications introduced after the first edition: Daytrana (methylphenidate topical patch), Emsam (selegiline), Invega (paliperidone), Lunesta (eszopiclone), Lyrica (pregabalin), Pristiq (desvenlafaxine), Razadyne (galantamine, previously Reminyl), Rozerem (ramelteon), and Vyvanse (lisdexamfetamine); Consideration of new FDA warnings of suicide risk for antidepressants, especially in children and adolescents; Updated risks associated with atypical antipsychotics when used in elderly patients with dementia, and links to weight gain and diabetes Already trusted as an essential clinical resource, this updated edition is even more indispensable for informing your patients and motivating them to comply with treatment. What Your Patients Need to Know About Psychiatric Medications offers busy clinicians peace of mind and is a must-have for any practice.
Information
Format: Paperback / softback
Pages: 441 pages
Publisher: American Psychiatric Association Publishing
Publication Date: 09/05/2009
Category: Psychopharmacology
ISBN: 9781585623563
Free Home Delivery
on all orders
Pick up orders
from local bookshops