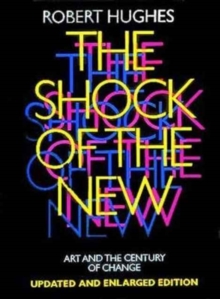 Shock of the New: Art and the Century of Change
Paperback
Description
An illustrated 100-year history of modern art, from cubism to pop and avant-guard. .
Information
Format: Paperback
Pages: 448 pages, 269 colour illustrations
Publisher: Thames & Hudson Ltd
Publication Date: 01/07/1991
Category: Theory of art
ISBN: 9780500275825
Free Home Delivery
on all orders
Pick up orders
from local bookshops
Reviews
Showing 1 - 2 of 2 reviews.
Review by misericordia
16/06/2015
I bought this book after a trip to the Museum of Modern Art in New York. I left the museum confused and annoyed by Modern art. I could not find anything to explain Modern art. Nothing that wasn't complete unreadable, unwatchable or incomprehensible. Then I picked up this book. I read about 30 pages in the book store and couldn't put it down. Robert Hughes' prose flows, clear and crisp. I like that he could explain an artist's work in a way that lets you know he doesn't like it, but is open to your liking it. I think watching or reading any of Hughes' work, is like a conversation with a your really smart and excentric uncle. After reading this book and watching the series, I now understand Modern art and feel justified by being annoyed by it.
Review by jcbrunner
16/06/2015
Coming late to the party, this tie-in to an early 1980s TV documentary series, I both like reading his poignant and wide-ranging introduction to 20th century art (that remains very wedded to the 19th century). The heavy Cold War and Soviet influence upon the book make it slightly dated. A large number of unnecessary small and sloppy mistakes are also distracting. While the general public is certainly glad about the author's simplifications, they often are simply not true. For instance, he claims that only the French revolution showed citizens depicted in leisure in nature. This is only true if one discards all Dutch painting of the 16th to the 18th century and even some of the German one. As with so much of art history, the idea of truth seems not to exist and any gifted writer or speaker can create and sustain his own interpretation that may only be somewhat grounded in fact. Much of the text is dedicated to Hughes' musings and ideas improvised based on the many art works presented. His concise books about Australian history and Barcelona were more to my liking. Still an entertaining read (except for the pain about the grating mistakes).