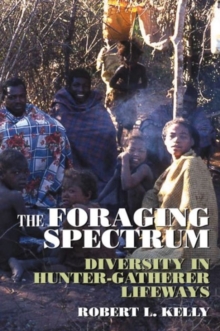 The Foraging Spectrum : Diversity in Hunter-Gatherer Lifeways
Paperback / softback
Description
The author wrote this book (which was originally published by Smithsonian Institution Press in 1995) to show his archaeology students how dangerous anthropological analogy is and how variable the actual practices of foragers of the recent past and today are.
His survey of the anthropological literature points to differences in foraging societies' patterns of diet, mobility, sharing, land tenure, exchange, gender relations, division of labor, marriage, descent, and political organization.
By considering the actual-not imagined-reasons behind diverse behaviour, this book argues for a revision of many archaeological models of prehistory.
Information
Format: Paperback / softback
Pages: 462 pages
Publisher: Eliot Werner Publications Inc
Publication Date: 12/11/2007
Category: Archaeology by period / region
ISBN: 9780975273883
Also by Robert J. Kelly