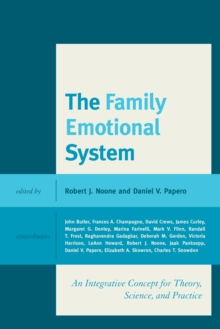 The Family Emotional System : An Integrative Concept for Theory, Science, and Practice
Hardback
Description
The Family Emotional System: An Integrative Concept for Theory, Science, and Practice presents an ongoing dialogue among scientists, family investigators, and clinicians related to a natural systems view of the family and human behavior that has been occurring over several decades.
The concept of the family as an emotional system, as defined in Bowen theory, is presented as the principal integrative concept underlying this dialogue and an effort to move toward a science of human behavior.
As a natural system, the family forms the immediate and most important context for individual development, and may be the most central and important environment shaping brain development across the lifetime of the individual.
This book explains how the family system can serve as an integrative framework within which specific factual discoveries and hypotheses from many areas of science can be brought together and understood as various manifestations of a coherent whole.
The Family Emotional System provides understanding of what is entailed in conceptualizing the family as an emotional system, a sense of the breadth and depth of knowledge the sciences are contributing to this effort, and examples of how this theoretical framework contributes to family research and practice.
The richness and excitement occurring in the ongoing dialogue between scientists and Bowen family systems practitioners and researchers is captured along with the promise it holds for the study of human behavior.
Information
Format: Hardback
Pages: 286 pages, 8 Graphs; 3 Charts; 1 Halftones, black and white; 2 Illustrations, black and white
Publisher: Lexington Books
Publication Date: 30/10/2015
Category: Family psychology
ISBN: 9780739198933