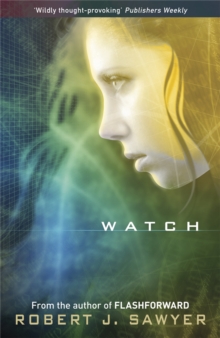 Description
Caitlin Decter could never have anticipated what was coming when she first sensed a strange presence on the internet.Webmind is an emerging consciousness that has befriended blind mathematics genius Caitlin Decter and has grown eager to learn about her world.
But Webmind has also come to the attention of WATCH - the secret government agency that monitors the internet for any threat to the United States - and they're fully aware of Caitlin's involvement in its awakening.
WATCH is convinced that Webmind represents a risk to national security and wants it purged from cyberspace.
But Caitlin believes in Webmind's capacity for compassion - and she will do anything and everything necessary to protect her friend.
Information
Format: Paperback
Pages: 368 pages
Publisher: Orion Publishing Co
Publication Date: 01/03/2011
Category: Science fiction
ISBN: 9780575095052
Free Home Delivery
on all orders
Pick up orders
from local bookshops
Reviews
Showing 1 - 3 of 3 reviews.
Review by ElizabethAnnS
16/06/2015
Good story mixed in with just a little too many boring explanations . The science was often presented more as a lecture than as a part of the story and tended to slow it down.All that being said I will be reading the last book in this series because I want to know what happens to Webmind. He and Caitlin make a good team.
Review by MikeFinn
16/06/2015
This continues the tale of Caitlin and the emergent AI Webmind. This is a fun book, easy to read, packed with ideas and with characters you care about.This book is slightly more static than the first in the series. It allows itself the time for the protagonists to lay out their arguments and explore the issues.If you are a sci fi fan, you will definitely get this book. If not, well you'll either become a sci fi fan or move on to the next book. Sawyer delights in using science fiction itself as a reference point that his protagonists use to figure stuff out with: movies like "War Games", "Star Trek" and the "Planet of Apes" series rub shoulders with references to Vernor Vinge and George Orwell. It's a fun ride for those of us who remember all those movies coming out (I'm definitely in the "parent" generation for this book) and a great appetizer for those to whom this is all new.The ideas in the book are exciting and relevant and unashamedly selling a message that the evolutionary value of consciousness is to enable us to choose to step outside our genetically programmed responses.Definitely worth a read.I look forward to the final part of the trilogy being published next month.
Review by gregandlarry
16/06/2015
So much is happening that at times it seems too much.