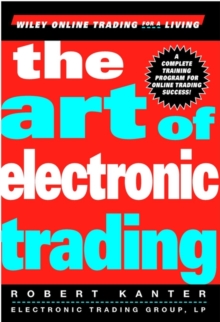 The Art of Electronic Trading
Hardback
Description
A complete training program for electronic trading success Providing strategies, methodologies, and background, The Art of Electronic Trading leaves no stone unturned as it takes readers through the entire stock and option trading spectrum.
Written by a leading Wall Street trainer and successful trader, this comprehensive guide to trading stocks and options uses numerous hypothetical and real-world trading scenarios.
It also provides in-depth coverage of the most successful technical indicators, explains how they work, under what conditions, and offers specific trading strategies to succeed.
Robert Kanter (New York, NY) has been a highly successful trader and businessman for over thirty-five years.
After fifteen years as a specialist in stocks on the floor of the American Stock Exchange, Mr. Kanter formed R. Kanter Securities in 1975. He now heads the Electronic Trading Group.
Information
Format: Hardback
Pages: 286 pages
Publisher: John Wiley & Sons Inc
Publication Date: 01/01/2020
Category: Investment & securities
ISBN: 9780471359371