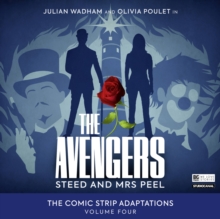 The Avengers: The Comic Strip Adaptations Volume 4: Steed and Mrs Peel : 4
CD-Audio
Description
Big Finish have already faithfully recreated audio episodes from the wiped first TV series of The Avengers - this set adapts Avengers comic strips which originally appeared in TV Comic, brought to life with eerily engrossing sound design and a brand new, cinematic music score in four brand new adventures; 4.1 Listen Hear... by Robert Khan and Tom Salinsky. An agent has been lost at sea shortly after getting hold of a revolutionary new device that the Ministry is very keen to acquire.
Steed and Peel are sent to retrieve it, but the enemy agents also on the trail are the least of their worries.
Someone is listening in on their every move. But who? 4.2 The Clown Has Two Faces by Dan Starkey. Top secret plans have been stolen, and all signs point to a travelling circus.
Infiltrating, Steed and Mrs Peel find themselves in the middle of a deadly serious plot.
When you take on clowns, can you be certain of having the last laugh? 4.3 White Heat by Gemma Langford. Fireballs are descending upon London and a ransom is being demanded.
Steed and Peel have a single lead - an agent badly injured in a similar attack.
If she can lead them to the person responsible, they might just have a chance to stop the destruction... but if not, they will soonwitness the second great fire of London! 4.4 Now You See Him... by John Dorney. Scientists are defecting and no-one is entirely sure how or why.
With their quarries disappearing on the street, Steed and Peel are baffled.
Surely a night out at the theatre can't provide the solution?
CAST: : Julian Wadham (John Steed), Olivia Poulet (Emma Peel), Nicholas Asbury (Margrave the Magnificent), Nigel Fairs (Sir Valentine Beauregard/Lighthouse Keeper/Landlord), Daniel Hawksford (Jacko), Rosie Jones (Jackie/Carding/Jones), Jessica Martin (Mrs Hendrik/Agent ZPX), Marek Oravec (Mr Kroger/Charlie), Paul Putner (Curtis/Professor Brand/Bartleby), Jeany Spark (Anna/Nurse/Computer), Leo Staar (Jack/Agent Rogers/Rocliffe), Dan Starkey (Colino/Professor Gumm/Coconut Shy), Jake Wardle (Ivan/Nikki/Slim Dexter), Eve Webster (Lydia Karlova/Nurse/Candy-Floss Seller), Corrinne Wicks (Agent Harris/Patient/Radio Presenter), Stephen Wight ("Fearless" Flint/Tannoy/Policeman).
Other parts played by members of the cast.
Information
Format:CD-Audio
Publisher:Big Finish Productions Ltd
Publication Date:31/07/2020
Category:
ISBN:9781787037489
Also in the The Avengers - The Comic Strip Adaptations series