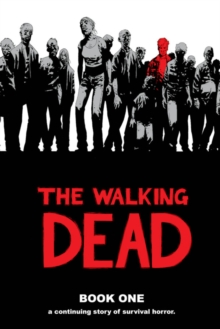 The Walking Dead Book 1
Hardback
Description
This hardcover features the first 12 issues of the hit series along with thecovers for the issues in one oversized hardcover volume.
Perfect for long timefans, new readers and anyone needing a slightly heavy object with which to fendoff the walking dead.
Information
Format: Hardback
Pages: 304 pages
Publisher: Image Comics
Publication Date: 19/07/2006
Category: Horror & ghost stories
ISBN: 9781582406190
Free Home Delivery
on all orders
Pick up orders
from local bookshops
Reviews
Showing 1 - 5 of 28 reviews.
Previous | Next
Review by mortensengarth
16/06/2015
wtf is up with the love drama in this? i wanted to take a point off for that, but the books cover is of such quality :(
Review by rrreese
16/06/2015
Really did not enjoy this. I greatly disliked the characters, the art was weak and uninspired, the constant use of "..." in speech bubbles grated on me.
Review by clark.hallman
16/06/2015
This hardback compilation of the first year of the Walking Dead comics, issues 1 through 12, introduces us to Rick a police officer who is shot in the line duty and awakens after weeks in coma to find that zombies have taken over his small town near Atlanta. He makes his way to Atlanta only to find the the situation there is even worse. However, he finds his way to a small group of survivors that also includes his wife and son. With Rick's leadership they manage to stay together outside of Atlanta, but are eventually forced to move further away from the city to find safety. They are continuously attacked by zombies and they endure much hardship and sustain many casualties. I really enjoyed this graphic novel, which includes much character development in addition to suspense and violence. I plan to continue reading this ongoing story as it becomes available.
Review by Lantzy
16/06/2015
The Walking Dead is Robert Kirkman's dream of a never-ending zombie tale where we get to see what happens after the neat little ending that movies usually provide us with. Given the premise, you'd almost be willing to bet that the story simply drags on and on with no real sense of suspense. Fortunately, that's not the case.The story moves along at a fast pace and keeps you hooked from beginnning to, well, not so much the beginning (there's no end, remember?). The characters are pretty well fleshed out, though, at times, you feel they go from one extreme to the next with no in-between. It's understandable given the circumstances they're in, but it'd be nice to be given insight as to why they are the way they are, rather than just assuming.The art is nothing to write home about, but it doesn't hinder things in anyway. Everything is clear and concise, so there's no confusion as to what's going on. All of the characters are pretty distinctive from one another, but, generally, they're fairly bland. It's not quite a bad thing, but since the comic is in black and white, it adds to the sense that nothing really jumps out at you. Give me a character with a weird haircut, or a scar, or a boatload of facial piercings.All in all, a very promising start to what should be a fantastic series. I'm eager to read the next book.
Review by schatzi
16/06/2015
I love zombies, so I was eager to read this series, especially because of all of the hype it has received. Well, the praise was warranted. I like the art. It is stark and black-and-white, which really puts the focus on the story itself. The authors also do a good job of drawing each character distinctively; I never had trouble telling any of the characters apart from one another, as I so often do in modern comics.As for the story itself - it was great. It was suspenseful, and the characters are interesting. There's a great mix of humanity in these pages - the good, the bad, and the ugly. I found it difficult to put the book down. I've ordered the other hardbacks in this series, and I can't wait to read them.