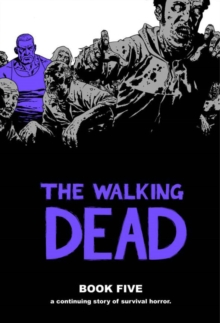 The Walking Dead Book 5
Hardback
Description
This hardcover features another 12 issues of the hit series along with thecovers for the issues all in one oversized hardcover volume.
Perfect for longtime fans, new readers, and anyone interested in reading a zombie movie on paperthat never ends. Collects The Walking Dead #49-60.
Information
Format: Hardback
Pages: 304 pages
Publisher: Image Comics
Publication Date: 11/05/2010
Category: Comics and Graphic Novels
ISBN: 9781607061717
Free Home Delivery
on all orders
Pick up orders
from local bookshops
Reviews
Showing 1 - 5 of 6 reviews.
Previous | Next
Review by lithicbee
16/06/2015
The story of the survivors of a zombie apocalypse continues, slowly. This volume is more about the psychological damage that each character is dealing with than the physical danger they are in, although the threat of death by zombie is of course ever-present. Our survivors learn about zombie herds firsthand and they have to deal with a new group of survivors that includes a possibly-full-of-crap "scientist" who thinks he knows why the zombie plague has occurred, but he won't tell because it is classified. Reading these comics is like watching a train wreck in really slow motion. Fascinating and horrifying in turns, but somehow the carnage is strangely compelling. For me, I like to imagine how I would deal with the same situations. Sometimes, though, I am not sure if I want to keep reading this series, as the characters are put through the wringer over and over; without at least a hint of and endgame in sight for the series, I may get tired of the darkness and despair before too long.
Review by burnit99
16/06/2015
Rick and Carl, after witnessing the overrunning of their prison home and the death of his wife and infant daughter, make their escape. Rick goes a little crazy from the grief, hearing his dead wife on a dead phone. Later they reconnect with Michonne, Glenn and Maggie and several others at Herschel's farm. A small band of survivors shows up at the farm, one of whom claims to be a scientist who knows how the plague started, and convinces them to make their way to Washington D.C., where perhaps a cure for the plague can be found.
Review by silversurfer
16/06/2015
I can't say enough great things about this series. Each Chapter gets better and better. Great story Arcs, characters and surprises. I love it.
Review by bookwormteri
16/06/2015
This series is so amazing. If you are a fan of graphic novels, comics, zombies, horror, or any of the above...run to your nearest bookstore, library, comic book shop and get these immediately.
Review by schatzi
16/06/2015
Fleeing the devastation at the prison, Rick and his son manage to find some of the surviving members of their little group. They also run into another band of survivors, with slightly better results than their last run-in with survivors. This book is a solid contribution to the series.