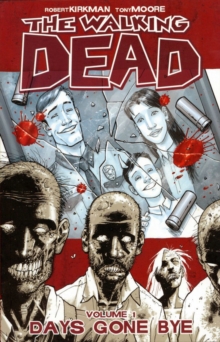 The Walking Dead Volume 1: Days Gone Bye
Paperback
Description
The world we knew is gone. The world of commerce and frivolous necessityhas been replaced by a world of survival and responsibility.
An epidemic ofapocalyptic proportions has swept the globe, causing the dead to rise and feedon the living.
In a matter of months society has crumbled: no government, nogrocery stores, no mail delivery, no cable TV.
In a world ruled by the dead, thesurvivors are forced to finally start living.
Information
Format: Paperback
Pages: 144 pages
Publisher: Image Comics
Publication Date: 07/09/2006
Category: Horror & ghost stories
ISBN: 9781582406725
Free Home Delivery
on all orders
Pick up orders
from local bookshops
Reviews
Showing 1 - 5 of 45 reviews.
Previous | Next
Review by jayrogers
16/06/2015
This first book, illustrated by Tony Moore, is the best-illustrated of this extended post-zombilyptic graphic novel.
Review by Arctic-Stranger
16/06/2015
First caveat--this is a comic book, and if you think all comics are graphic novels in the vein of Maus, you will be disappointed here. Second, it is a Zombie comic. Now I happen to love Zombie lit, and comics, and I dont have very high expectations of them. I did enjoy this series, and ended up reading all seven volumes. (And I am awaiting the 8th.) This is not the most original piece of Zombie lit I have read, but it is entertaining, in the same way watching TV reruns can be entertaining. Kirkman uses old themes, and does not add many new ones. The protaganist wakes up in a hospital after the intitial outbreak (shades of "28 Days Later") and then the series takes a decided Romero direction. Kirkman does not add anything new, but builds on the traditional Zombie themes. Over the series he does provide space for the characters to develop. The first volume is probably the weakest, probably because you really haven't gotten an opportunity to care about these people yet. But they do grow on you.
Review by titania86
16/06/2015
The Walking Dead comic book series is one of the most well written and interesting piece of zombie literature out there. There are currently 10 mass market paperbacks out and it's still going strong. The story follows Rick, his family, and his band of random friends as they struggle to survive in a post-zombie apocalypse world. The characters are diverse in every way: in sex, race, age, and sanity. As you probably know, many horror movies rely on the characters doing stupid things to move the plot ahead. This really isn't the case with The Walking Dead series. Of course the characters sometimes make fatal mistakes, but it isn't the main plot device. (I think it's wonderful that stupidity is swiftly punished in this world.) Problems in this world do not only stem from zombies. There are so many other things to worry about: food, shelter, raising children, inner group conflicts, and even other humans. Sometimes, encountering other humans is much more dangerous than any zombie. Keep in mind that there is no longer any government, laws or regulations to follow. People can essentially do whatever they want without any repercussions. I think this is the scariest aspect of this world. Some people turn into complete monsters and do terrible things. Even the main characters have to struggle with their own humanity because they are surrounded by so much violence and gore. No character is safe in this series. Anyone could die at any time for any reason. The deaths are unexpected and often pretty brutal. I like this unpredictability because it keeps my interest and makes me want to know more after I read each issue. The only problem with this series is that the mass market paperbacks don't come out as often as I would like. I would recommend this series to any zombie fan. If you don't usually read comic books, please give this one a try. You won't be disappointed.
Review by Clurb
16/06/2015
'28 Days Later'-esque, Rick Grimes, a small town cop, wakes up from a coma to find that society has been destroyed by an epidemic of zombies. This volume details Rick's journey across country to find his wife and son. Whilst the idea of a long, character-driven zombie story intrigues me, and I admittedly raced through this volume, I wasn't overly taken by Kirkman's sometimes corny dialogue, or the overall quality of the artwork where characters can change appearance several times during the length of a page. The jury's out with this one.
Review by annenoise
16/06/2015
For all the hype this series got, I have almost no drive to read the second volume - the characters were predictable and boring, the plot was... predictable and boring, and unless more interesting story arcs start to come out of the woodwork, I doubt I'll continue after the second volume. Good art if somewhat uninspired. That's actually how I felt about the entire first volume - uninspired. The zombie genre is done to death, and this adds nothing interesting or original.