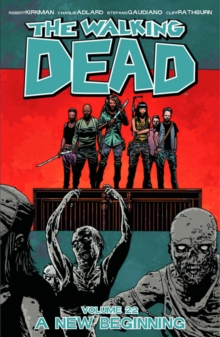 The Walking Dead Volume 22: A New Beginning
Paperback
Description
They've survived the walkers. Survived war with a ruthless enemy. And now,in THE WALKING DEAD, hope for the future emerges.
A perfect jumping-on point forreaders, Volume 22 of the New York Times bestselling graphic novel series marksa new era for THE WALKING DEAD as the survivors pick up the pieces of theirshared humanity to create A NEW BEGINNING. In the aftermath of ALL OUT WAR, Rick Grimes and his allies begin torebuild their communities.
But in the world of the dead, tranquility is onlytemporary.
How long will it be before a new, unexpected foe emerges?
Find out inA NEW BEGINNING. Collects THE WALKING DEAD #127-132.
Information
Format: Paperback
Pages: 136 pages
Publisher: Image Comics
Publication Date: 11/11/2014
Category: Horror & ghost stories
ISBN: 9781632150417
Free Home Delivery
on all orders
Pick up orders
from local bookshops
Reviews
Showing 1 - 5 of 6 reviews.
Previous | Next
Review by dougcornelius
27/08/2015
The saga continues, more zombies, more bad guys, more....This volume is a bit of reboot or flash forward. I wonder what the TV show will do when it gets to this point?
Review by Othemts
16/06/2015
Can the creators of The Walking Dead tell a story that does not revolve around survivors merely fighting zombies or fighting wars with other survivors? The answer is yes! This volume moves ahead a bit into a future where Rick and the leaders of surrounding communities are succeeding in developing sustainable communities amid the zombie horror. Problems encountered now are the challenges of doing things that were normal in the old world. For example, Carl is growing old enough to want to move out on his own to the Hilltop community. Meanwhile, newly admitted survivors find the community too good to be true, an ironic turnabout. Finally, the creepiest new antagonists are introduced. This is a much set of stories and gives me hope for the continuing story of The Walking Dead.
Review by DanielleMD
11/07/2015
The ending! Wow. Much better than what I thought was going on. THAT would have been super lame.
Review by Schlyne
27/01/2016
Just when you think everything is nice and calm and might have some sense of normalcy....<br/>
Review by 4everfanatical
27/01/2016
This volume was really interesting in a way that the others weren't.<br/><br/>So an indeterminate amount of time has elapsed since the events of All Out War. Everybody looks pretty different, I didn't recognise Jesus at first. Carl is wearing glasses with one side blacked out. Rick has an awesome attachment for his hand stub, Andrea looks the same. Alexandria has been transformed into an impressive community, where they are making a case of ammunition a day and baking bread. Everyone has a job and people are actually patrolling roads and making areas outside safe. Maggie is the leader of the hilltop still... But there are a few people missing.... Mainly Michonne. I love Michonne.<br/><br/>The cliffhanger this volume left off on was a true what the hell moment. That is something I could of never imagined in my wildest dreams!<br/><br/>Really interesting story arc, can't wait to see how it unfolds.