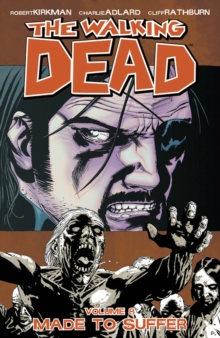 The Walking Dead Volume 8: Made To Suffer
Paperback
Description
The world we knew is gone. The world of commerce andfrivolous necessity has been replaced by a world of survival and responsibility. An epidemic of apocalyptic proportions has swept the globe, causing the dead torise and feed on the living.
In a matter of months society has crumbled: nogovernment, no grocery stores, no mail delivery, no cable TV.
In a world ruledby the dead, the survivors are forced to finally start living.The series that created the zombie movement reaches its most pivotal,series-altering arc yet!
They thought they were safe in the prison. They werewrong. A force far more deadly than the walking dead is at their door and whenthe dust settles, their rank will be reduced by more than half.
No one is safe! Reprint Edition
Information
Format: Paperback
Pages: 136 pages
Publisher: Image Comics
Publication Date: 01/04/2008
Category: Horror & ghost stories
ISBN: 9781582408835
Free Home Delivery
on all orders
Pick up orders
from local bookshops
Reviews
Showing 1 - 5 of 10 reviews.
Previous | Next
Review by SimonLarsen
16/06/2015
This series is getting darker and darker. Without revealing anything about the plot in this one I've just say that I was unpleasantly surprised by one of the plot twists herein.
Review by kayceel
16/06/2015
Wow. Oh, jeez. Just...wow. This one was good, but oh, jeez did things go badly. Sigh.
Review by teewillis1981
16/06/2015
Although I have been on the edge of my seat with The Walking Dead, I must say that Kirkman's quest for realism has left be extremely jaded. Without revealing the end or spoiling this book, I must say I was blown away by the end. I read this one in less than an hour, literally devouring each page. This has got to be the best horror comic I have ever read. READ THIS WHOLE SERIES.
Review by suzemo
16/06/2015
Hooray! Stuff happened! Fast pacing is back!<br/><br/><spoiler><br/>The governor has some sort of pedophilia/incestuous thing going on with his zombie daughter? Whu? I hope I just read that wrong.<br/><br/>Woodbury attacks! People die all around! The damn baby dies! Lori dies! They are forced to leave the prison! <br/><br/>It's like Walking Dead Christmas for me!<br/><br/></spoiler><br/><br/>Lots of change, lots of forward momentum, lots of death. Yayz.
Review by akmargie
16/06/2015
Giving this issue a 5, just for going there.