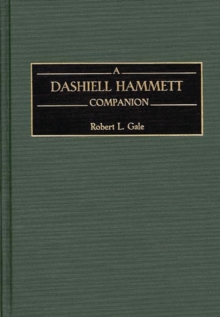 A Dashiell Hammett Companion
Hardback
Description
Dashiell Hammett's writing career began with the publication of The Parthian Shot, a tiny short story in The Smart Set in 1922, and virtually ended when he published 3 outstanding stories in Collier's in 1934.
During this period, he published 60 short stories, 5 novels-including The Maltese Falcon and The Thin Man-a few minor poems, some nonfictional prose, and a series of astute book reviews.
Though he lived until 1961, he wrote little after 1934 and suffered from alcoholism, tuberculosis, and other illnesses.
His influence on other writers, however, and on movies and television, has survived to this day.
This reference work is a comprehensive guide to Hammett's life and works. The volume begins with a chronology that highlights the major events in Hammett's life.
The bulk of the book comprises alphabetically arranged entries for Hammett's works, characters, family members, and acquaintances.
Some of the entries cite sources of additional information, and the volume concludes with a brief bibliography.
While the reference is first and foremost a guide to Hammett, it is also a helpful aid to the study of the development of the American hard-boiled detective novel.
Free Home Delivery
on all orders
Pick up orders
from local bookshops