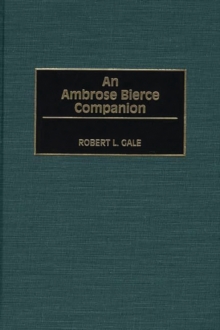 An Ambrose Bierce Companion
Hardback
Description
Ambrose Bierce was born in 1842 and mysteriously disappeared in 1914.
During his lifetime, he was a controversial and prolific writer, and there is growing interest in his works.
As a Union soldier during the Civil War, he witnessed bloodshed and the atrocities of battle.
After the war, he began a career as a journalist in San Francisco, where many of his newspaper columns were filled with venom and daring.
In addition, he wrote war stories and tales of the supernatural, along with an assortment of poems.
Today, he is probably best remembered as the author of The Devil's Dictionary, originally published as The Cynic's Dictionary in 1906.
This reference is a guide to his life and writings. An opening essay overviews Bierce's contribution to literature and journalism, and a chronology summarizes the most important events in his life.
The bulk of the Companion comprises alphabetically arranged entries on Bierce's major works and characters and on historical persons and writers who figured prominently in his life and career.
Thus the volume provides coverage of Bierce's contemporaries, many of whom he satirized in his scathing newspaper columns.
Many of the entries list works for further reading, and the book closes with a selected, general bibliography. Because of Bierce's concern with so many issues of his day, the volume offers a valuable perspective on American culture during the time in which he lived.
Free Home Delivery
on all orders
Pick up orders
from local bookshops