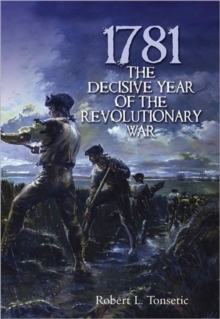 1781 : The Decisive Year of the Revolutionary War
Paperback / softback
Description
Praise for Robert L. Tonsetic's previous publications:"...takes an unflinching look at both the adventure and trauma of war while aiming to fill the gaps in the record for Vietnam."-Metro College Magazine"A must read for any soldiers likely to conduct partnering activities in the future."-Soldier MagazineThe Treaty of Paris in 1783 formally ended the American Revolutionary War, but it was the pivotal campaigns and battles of 1781 that decided the final outcome. 1781 was one of those rare years in American history when the future of the nation hung by a thread, and only the fortitude, determination, and sacrifice of its leaders and citizenry ensured its survival. 1781 was a year of battles, as the Patriot Morgan defeated the notorious Tarleton and his Loyal legion at Cowpens.
Then Greene suffered defeat at Guilford Courthouse, only to rally his forces and continue to fight on, assisted by such luminaries as Francis Marion, the"Swamp Fox," and "Light Horse Harry" Lee.
While luring Cornwallis north, Greene was able to gather new strength and launch a counterattack, until it was Cornwallis who felt compelled to seek succor in Virginia.
He marched his main army to Yorktown on the Peninsula, upon which the French fleet, the British fleet, Greene, Washington, and the French army under Rochambeau all converged.
On October 19, 1781, Cornwallis surrendered his weary and bloodied army. In this book, Robert Tonsetic provides a detailed analysis of the key battles and campaigns of 1781, supported by numerous eyewitness accounts from privates to generals in the American, French, and British armies.
He also describes the diplomatic efforts underway in Europe during 1781, as well as the Continental Congress's actions to resolve the immense financial, supply, and personnel problems involved in maintaining an effective fighting army in the field.
With its focus on the climactic year of the war, 1781 is a valuable addition to the literature on the American Revolution, providing readers with a clearer understanding of how America, just barely, with fortitude and courage, retrieved its independence in the face of great odds.
Information
Format: Paperback / softback
Pages: 284 pages, 16 pages illustrations
Publisher: Casemate Publishers
Publication Date: 19/12/2012
ISBN: 9781612001548
Free Home Delivery
on all orders
Pick up orders
from local bookshops