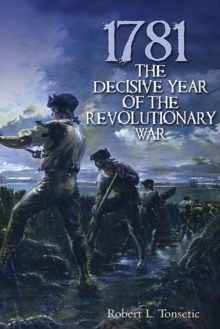 1781 : The Decisive Year of the Revolutionary War
Hardback
Description
Praise for Robert L. Tonsetic's previous publications:"...takes an unflinching look at both the adventure and trauma of war while aiming to fill the gaps in the record for Vietnam."-Metro College Magazine"Of special interest is the way in which he recounts the dynamics of personalities and their effect on the indigenous commanders and units.
A must read for any soldiers likely to conduct partnering activities in the future."-Soldier MagazineThe Treaty of Paris in 1783 formally ended the American Revolutionary War, but it was the pivotal campaigns and battles of 1781 that decided the final outcome. 1781 was one of those rare years in American history when the future of the nation hung by a thread, and only the fortitude determination, and sacrifice of its leaders and citizenry ensured its survival. By 1781, America had been at war with the world's strongest empire for six years with no end in sight.
British troops occupied key coastal cities, from New York to Savannah, and the Royal Navy prowled the waters off the coast.
After several harsh winters, and the failure of the government to adequately supply the troops, the American army was fast approaching the breaking point.
It was only the arrival of French troops that provided a ray of hope for the American cause. In this book, Robert Tonsetic provides a detailed analysis of the key battles and campaigns of 1781, supported by numerous eyewitness accounts from privates to generals in the American, French, and British armies.
He also describes the diplomatic efforts underway in Europe during 1781, as well as the Continental Congress's actions to resolve the immense financial, supply, and personnel problems involved in maintaining an effective fighting army.
Information
Format: Hardback
Pages: 288 pages, 16 pp illustrations
Publisher: Casemate Publishers
Publication Date: 20/10/2011
ISBN: 9781612000633
Free Home Delivery
on all orders
Pick up orders
from local bookshops
Also by Robert L. Tonsetic