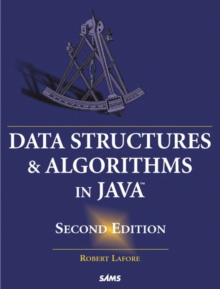 Data Structures and Algorithms in Java
Paperback
Description
Data Structures and Algorithms in Java, Second Edition is designed to be easy to read and understand although the topic itself is complicated.
Algorithms are the procedures that software programs use to manipulate data structures.
Besides clear and simple example programs, the author includes a workshop as a small demonstration program executable on a Web browser.
The programs demonstrate in graphical form what data structures look like and how they operate.
In the second edition, the program is rewritten to improve operation and clarify the algorithms, the example programs are revised to work with the latest version of the Java JDK, and questions and exercises will be added at the end of each chapter making the book even more useful.
Educational SupplementSuggested solutions to the programming projects found at the end of each chapter are made available to instructors at recognized educational institutions.
This educational supplement can be found at www.prenhall.com, in the Instructor Resource Center.
Information
Format: Paperback
Pages: 800 pages
Publisher: Pearson Education (US)
Publication Date: 06/11/2002
Category: Databases
ISBN: 9780672324536
Free Home Delivery
on all orders
Pick up orders
from local bookshops
Reviews
Showing 1 - 1 of 1 reviews.
Review by kiparsky
16/06/2015
Assigned text for a course in Data Structurs and Algorithms. Reasonably good explanations of the material, but the code provided is idiosyncratic and often awkward to follow, and there are some odd lapses. As an example of an odd lapse, LaFore's discussion of red-black trees cites "four rules" which define this structure. These are: 1) Every node is either red or black 2) the root of the tree is always black. 3) no red node has a red child and 4) every path from root to an empty node must contain the same number of black nodes. These rules are meant to ensure that the tree is balanced, but there's a fifth and later a sixth which are required, and not really discussed in any systematic fashion. The student (and in my case, the teacher) must stop and reconfigure the text to make it all hold together - a good learning opportunity, but not an example of a good textbook.The text is supplemented by applets for each major area discussed, which would be much more useful if the author didn't feel the need to occupy 8-10 pages in any given chapter explaining how to use his fairly simple explanatory devices.