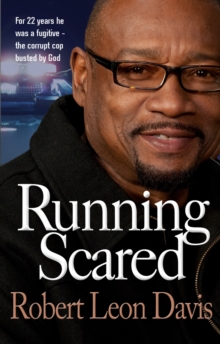 Running Scared : For 22 Years He Was a Fugitive - The Corrupt Cop Busted by God
Paperback
Description
Robert Leon Davis was a respected police officer in New Orleans serving for four years until 1979-when he was arrested.
He had begun his career with aspirations of being a great cop.
But he was exposed to a darker side of law enforcement.
While partnered with a veteran Robert first witnessed an officer violate the very laws he vowed to uphold - and shared his crime.
One compromise led to another, and Davis faced arrest.
From studying criminal law at Loyola University and becoming an award winning officer, Davis was a fugitive, living off the land in remote forests in America and Canada to elude capture.
The church upbringing, where his grandmother made sure he learned about God and Jesus, was abandoned in anger.
Through a stranger's prayer the angry atheist realised he was weary of running. He yielded his life to God, and gave himself in. When the District Attorney finally dusted off his file, what would his sentence be?
Information
Format: Paperback
Pages: 192 pages
Publisher: Lion Hudson Plc
Publication Date: 01/09/2010
ISBN: 9781854249937
Free Home Delivery
on all orders
Pick up orders
from local bookshops
Reviews
Showing 1 - 5 of 8 reviews.
Previous | Next
Review by nirrad
16/06/2015
I really enjoyed this book, and Highly recommend it to others, couldn't put it down, Robert's story should touch many lives, I normally don't give 5 stars to books but this was really a good book.thanks to Robert for sharing this story.
Review by mdkalbach
16/06/2015
'Running Scared' is a very interesting read. This book is a prime example of the fact that when God wants to get your attention, He will get it!You may deny that God exists. You may run far and long, but you cannot hide from God!God has a Plan and a Purpose for everyone regardless of their background.I would recommend this book to both believers and non-believers.I enjoyed the messages he has at the end of the book that are addressed to specific groups of people. I like the fact that there are a few people left that will tell it like it is and not sugar coat everything in a misguided attempt to be Politically Correct.
Review by thedenathome
16/06/2015
Running Scared kept my attention from start to finish. I read it in one day while at work. Admittedly, it was a very slow day, but Davis tells a story that is stranger than fiction in an engaging manner. From his youth raised by his grandmother along with his 8 brothers and sisters to his early years in the police force of New Orleans all the way through his fugitive years and back to his family in New Orleans, Davis has lived a life of extremes. He was a cop, busted for corruption and about to be sentenced to a potential of 30 years...if the inmates didn't kill him first! He ran to Canada to escape that fate where he "worked" as a car thief. He decided at one point to hide in the woods and studied how to survive on his own, and did so for some years, until fears of medical problems caused him to return to civilization. He learned to play the system and get free medical care, meals at soup kitchens and missions, day labor jobs and whatever he needed to do to live another day.Davis returned to the US and settled down for a year or two here and there but always found a way to ruin a good thing. But, finally, after years and years on the road, now as a man in his 40's, he came to the end of his resourcefulness, his strength, his courage, and decided to give himself up and take the consequences of his actions How that came about is a story in and of itself. I'll just say that it reminded me of Moses and the burning bush...I found the book to be an entertaining read, even as he describes truly awful actions and events. The tone did get too preachy for my tastes at the end...but his message is still a good one to hear and heed.
Review by gslykhuis
16/06/2015
Not overly well written but it still held my attention and I quite enjoyed it. His story of redemption and God's forgiveness was very inspiring and I would recommend this. A light read but worth reading.
Review by booksgaloreca
16/06/2015
I received this book as part of the early reviewers program. It was an interesting true story of one man who made some bad decisions early in life and ran away from his life and God. It tells of his adventures over the next 20+ years until he decides to quit running. It seems like the book was written to help young people not make the same mistakes the author made. An entertaining read.
Also by Robert Leon Davis