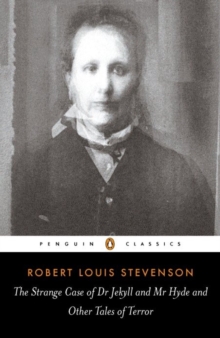 The Strange Case of Dr Jekyll and Mr Hyde and Other Tales of Terror
Paperback
Description
His innovative thriller, as shocking now as when it was first published, the Penguin Classics edition of Robert Louis Stevenson's The Strange Case of Dr Jekyll and Mr Hyde and Other Tales of Terror is edited with an introduction by Robert Mighall.Published as a 'shilling shocker', Robert Louis Stevenson's dark psychological fantasy gave birth to the idea of the split personality.
The story of respectable Dr Jekyll's strange association with the 'damnable young man' Edward Hyde; the hunt through fog-bound London for a killer; and the final revelation of Hyde's true identity is a chilling exploration of humanity's basest capacity for evil.
The other stories in this volume also testify to Stevenson's inventiveness within the Gothic tradition: 'Olalla', a tale of vampirism and tainted family blood, and 'The Body Snatcher', a gruesome fictionalisation of the exploits of the notorious Burke and Hare.This edition contains a critical introduction by Robert Mighall, which discusses class, criminality and the significance of the story's London setting.
It also includes an essay on the scientific contexts of the novel and the development of the idea of the Jekyll-and-Hyde personality.Robert Louis Stevenson (1850-1894) was born in Edinburgh, the son of a prosperous civil engineer.
Although he began his career as an essayist and travel writer, the success of Treasure Island (1883) and Kidnapped (1886) established his reputation as a writer of tales of action and adventure.
Stevenson's Calvinist upbringing lent him a preoccupation with predestination and a fascination with the presence of evil, themes he explored in The Strange Case of Dr Jekyll and Mr Hyde (1886), and The Master of Ballantrae (1893).If you enjoyed The Strange Case of Dr Jekyll and Mr Hyde, you might like The Private Memoirs and Confessions of a Justified Sinner, by James Hogg, also available in Penguin Classics.'Every bit as claustrophobic, creepy and chilling as when it first saw the light of day over a century ago'Ian Rankin
Information
Format: Paperback
Pages: 224 pages
Publisher: Penguin Books Ltd
Publication Date: 27/02/2003
Category: Classic horror & ghost stories
ISBN: 9780141439730
Free Home Delivery
on all orders
Pick up orders
from local bookshops
Reviews
Showing 1 - 5 of 8 reviews.
Previous | Next
Review by Hamburgerclan
16/06/2015
The introduction to this book has a great quote: "...Stevenson's story is more known about than actually known..." This was certainly true for me, and ever since enjoying <i>The League of Extra-ordinary Gentlemen</i>*, I had a desire to change that. I finally managed to snag a copy of the tale and read it. As you probably know, it's the tale of a Doctor Henry Jekyll, who concocts a potion that transforms him into Mr. Edward Hyde, an amoral man without restraint. Or perhaps you can say that the potion <i>releases</i> Hyde from the restraint that is Henry Jekyll. At this point I'm supposed to say that it's a classic tale of suppressed desire and social façades--a masterpiece for all times. Or something like that. The truth is, while I enjoyed reading the story, I wasn't overly impressed. Like most people, I imagine, I share Dr. Jekyll's struggle with the darker part of my soul. But it seems that the better solution is just to fess up and ask the good Lord for forgiveness rather than try to cover it up or seek ways to secretly indulge it. Of course, if Dr. Jekyll had done that, it would have made for an even shorter tale. Ah, well....--J.______*A work that takes great liberties with the character, I discovered.
Review by marek2009
16/06/2015
Another book I started for the Edinburgh trip, having never read it before. It's a wonderful tale & a great edition, with 'The Bodysnatcher', a retelling of Burke & Hare, & Olalla, a story about a Spanish vampire, & extract from 'Chapter on Dreaming'. The notes & accompanying essays are also very good.
Review by whirled
16/06/2015
Like most people, I've been aware of Jekyll and Hyde most of my life, chiefly as a common descriptor for the contradictions and duality of human nature. I mean, even Eddie Murphy took up the theme in <i>The Nutty Professor</i>. Reading the classic short story filled in a lot of intriguing details left out of later reinterpretations. Stevenson evokes the fog-shrouded streets of London so convincingly I could almost hear the clip-clopping of horse's hooves on damp cobble-stoned streets. Not as frightening as it must have been to uninitiated 19th century readers, but still a deserving classic of the horror genre.
Review by GrazianoRonca
16/06/2015
The Strange Case of Dr. Jekyll and Mr. Hyde: And Other Tales of Terror by Robert Louis StevensonPenguin Classics (2003), Paperback, 224 pages'I can't describe him. And it's not want of memory; for I declare I can see him this moment.' (p.10)Robert Mighall, editor of this edition of The Strange Case of Dr Jekyll and Mr Hyde, writes that the statement of Dr Jekyll (last chapter of the book) is the best known part of the story written by Robert Louis Stevenson. Mighall advises to read the book completely: "They would find there something different from what they imagined: a more complex, rewarding and disturbing story than the version that has been handed down in popular culture form.' (p.ix)As Mighall writes in the introduction, following the path of Gothic novelist Stevenson changes the set of his stories: abandoned ruined castles and woods, Stevenson set the horror in the mind of individuals. The Fall of the House of Usher by Edgar Allan Poe is the past, the good and the evil are inside the mind.'I saw that, of the two natures that contended in the field of my consciousness, even if I could rightly be said to be either, it was only because I was radically both; … I had learned to dwell with pleasure, … on the thought of the separation of these elements. If each … could but be housed in separate identities, life would be relieved of all that was unbearable; the injust might go his way … and the just could walk steadfastly and securely on his upward path.' (p.56)This edition contains a brief dissertation of Robert Mighall: Diagnosing Jekyll: the Scientific Context to Dr Jekyll's Experiment and Mr Hyde's Embodiment; although very useful, I prefer a different point of view 'diagnosing' Stevenson and his book. Cesare Lombroso' s idea about the connection between head's shape and criminality (drawn from physiognomy): ugly means crime, handsome means honest person; is only an easy and popular connection. In my opinion, on the other hand, Stevenson writes about the dichotomy between good and evil. Good or just has always tried to keep a distance from evil or unjust, but Stevenson wants to find another solution: both just and unjust living in the same person. But morality liked, from biblical times, dichotomy; so Stevenson doesn't solve the problem with Dr Jekyll: his friend 'can't describe him' (p.10) The Strange Case of Dr Jekyll and Mr Hyde was first published in 1885; the next year, 1886, Friedrich Wilhelm Nietzsche wrote Beyond Good and Evil (Prelude to a Philosophy of the Future). Nietzsche 'screaming' his 'Affirmative Philosophy' or 'Philosophy of Yes' preludes how to build a bridge towards / beyond just and unjust.Stevenson and Nietzsche: same times, same ideas, different solutions.
Review by Voise15
16/06/2015
A Victorian novel, both of its time and ground breaking - a gothic tale set in a London contemporary to the author.It touches on a range of taboo issues, from sexuality, to the link between class and morals and by extension eugenics.The introduction and background essay by Mighall are insightful and give the modern reader a sense of the impact this book had at the time of writing.I did find it slightly distasteful that the updstanding Dr Jekyll is perceived as the moral opposite of the base Hyde character - described as "pure evil".
Also by Robert Louis Stevenson | View all