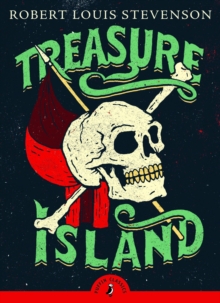 Treasure Island
Paperback
Description
Following the demise of bloodthirsty buccaneer Captain Flint, young Jim Hawkins finds himself with the key to a fortune.
For he has discovered a map that will lead him to the fabled Treasure Island.
But a host of villains, wild beasts and deadly savages stand between him and the stash of gold.
Not to mention the most infamous pirate ever to sail the high seas . . .With a wonderfully funny introduction by award-winning author Eoin Colfer, Treasure Island is one of the twenty brilliant classic stories being reissued in Puffin Classics in March 2015.
Information
Format: Paperback
Pages: 336 pages, b & w line
Publisher: Penguin Books Ltd
Publication Date: 01/03/2008
Category: Classic
ISBN: 9780141321004
Other Formats
Paperback from £2.50
CD-Audio from £8.59
Hardback from £5.25
Free Home Delivery
on all orders
Pick up orders
from local bookshops
Reviews
Showing 1 - 3 of 3 reviews.
The next book was Treasure Island by Robert Louis Stevenon. A young boy, Jim Hawkins, lived quietly by the sea with his parents in an the Admiral Benbow inn. One day, a stranger moved into the Inn, dropped a few gold coins as payment for the room and he told them, "This should cover me for awhile-let me know when that payment runs out" (that is my paraphrase). The stranger wanted to stay far enough from shore but close enough to see the boats come in and out. When more payment was due, the owner would ask him to pay only to get a loud snorts and a growling stair from the stranger. He never paid anymore for the Rum or the room. The stranger was actually Billy Bones. They all sailed with Captain Flint, a feared pirate that sailed the seven seas. Billy Bones did not have much; he carried an old sea chest, a love for Rum, and some gold coins. He asked Jim to watch for a one legged man. Soon came other pirates in search of the pirate's treasure map. The pirates gave Mr. Bones the "black spot" and he fought with another pirate. He died before they killed him. Jim's father died too and left him and his mother alone. After the death's, Jim searches Billy Bones and the Chest and he finds the treasure map. He trusted Dr. Livesey, the local physician and the local legal magistrate. The Squire John Trelawney was naïve. The Doc warns them not to talk much about this knowing the danger involved. They eventually get the Hispaniola a great ship and a crew. Capt'n Flint is also the name of Silver's parrot. I'm writing too much so I'll finish quickly. In short, the cut throat pirate, Long John Silver, was in the crew and fought and fought to get the treasure. The squire did talk too much and let the cat out of the bag.Jim serves as the cabin boy. He hid in the apple barrel and heard the pirate's plans to find the treasure then kill all those that stand in their way. We find Ben Gunn on the island. He'd been there for years after being marooned there. He was semi nuts but had enough wherewithal to know how much to share and how much to help little Jim. Jim ran away and worked to the best of his ability hiding and fighting and taking the Hispaniola and beaches it in a hidden site. He fought Hands and sent him to Davie Jones locker. He grows up quickly and is able to make it through. I don't want to say what happed to the treasure for fear that some of you may not have read it yet. So go read it. It's 336 pages. I found it pretty predictable but that is common. I enjoyed this book.
Review by Carpe_Librum
16/06/2015
Today is International Talk Like a Pirate Day and the perfect opportunity to review Treasure Island by Robert Louis Stevenson. The narrator and young hero of the book, Jim Hawkins is a very likeable character and I can definitely understand why this book was so popular with boys; who wouldn't want to be young Jim? It was interesting to finally meet the characters of Captain Flint and Long John Silver and I enjoyed the pirate dialogue by thunder!I was somewhat surprised to find the plot a little more layered than I expected, being written for young boys. I can definitely imagine a young reader enjoying the adventure the first time through, but discovering and understanding more about the nature of men on the second read, perhaps several years later.I confess I feel a little late to the party - only reading Treasure Island in my 30s - but it's never too late to catch up on a classic. Having read it now, I can't rightly say what makes Treasure Island a classic though, or why it has endured. It was first published in 1883, but is still popular today.
Review by sturlington
16/06/2015
Cabin boy Jim Hawkins joins a quest for treasure but must contend with mutinous pirates, including the duplicitous Long John Silver.Pretty much every pirate cliche you ever heard? Here's the origin. Treasure map with X marking the spot? Check! Pirate with a wooden leg and a parrot on his shoulder? Check! "Yo-ho-ho and a bottle of rum!" Of course.If you like pirate stories, this is the great-granddaddy of all pirate stories, and required reading. Stevenson's clear prose and nonstop near escapes makes it easy going. It's a classic for a reason.<I>Reading and rereading the classics (2013).</I>
Also by Robert Louis Stevenson | View all
Also in the Puffin Classics series | View all