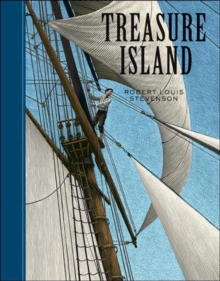 Description
While going through the possessions of a deceased guest who owed them money, the mistress of the inn and her son find a treasure map that leads them to a pirate's fortune.
Information
Format: Hardback
Pages: 232 pages, Illustrations
Publisher: Sterling Juvenile
Publication Date: 01/10/2004
Category: Classic
ISBN: 9781402714573
Other Formats
Paperback from £2.50
CD-Audio from £8.59
Hardback from £5.25
Free Home Delivery
on all orders
Pick up orders
from local bookshops
Reviews
Showing 1 - 5 of 6 reviews.
Previous | Next
Review by LukeS
16/06/2015
Stevenson is an all-time classic author, and this book is rightfully held in the front rank of the Stevenson canon. It is often cited as a classic of young adult literature, and it clearly works as such, superbly so. But I would like to cite Mr. Stevenson's sophisticated and subtle portayal of his characters. The motivations are shaded, knowing, understandable, and realistic. We have the evolving, by turns treacherous and ingratiating, journey of Long John Silver. We have the captain of the vessel, and while not as subtle a character, certainly has his depths. And of course, the classic first-person Jim Hawkins, whose courage and resourcefulness are really the entree to this delicious meal.There are some works which seem to carry all in the genre after it. This is one of those. In the words of Jorge Luis Borges: "I like antique maps, 18th-century type styles, the origins of words, the smell of coffee, and the prose of Stevenson." Amen.
Review by Radaghast
16/06/2015
One of my favorite books of all time. This is the standard in adventure novels and for good reason. Every young boy and girl should read this book.
Review by irunsjh
16/06/2015
This is one of those books I have always wanted to read. I am glad that I did, it was quite enjoyable and I see why it is classed as a Classic novel, and has been reprinted so many times. The characters where quite interesting and enjoyed the flow the book. My only issue was when the narrator switched to the Doctor. Overall a good book and a recommendation for all ages.
Review by jaredmmatarau2012
16/06/2015
this book is not a book for me not enough action and just boring
Review by bezoar44
16/06/2015
Rereading Treasure Island for the first time since adolescence, I was struck by how tightly plotted the story is, and also how much of the story I had missed as a young reader. Stevenson writes with what is surely deadpan humor - for example, an over-the-top passage where the Squire begs forgiveness from his mortally-wounded gamekeeper for having dragged him on a wild-goose chase for buried treasure, only to have the servant (1) reply that it wouldn't be proper for him to forgive his master, (2) forgive him, and (3) promptly die. When the young protagonist kills a pirate in self-defense, Stevenson wastes no time on the notion that a good character must throw up or feel paralyzed by the knowledge they have taken a life; instead he describes, coolly, the way the pirate sinks to the bottom of the crystal clear bay. The story moves at a steady clip, is totally unsentimental, and lets the protagonist drive all the main action of the story through his choices, wise and otherwise. This book has aged well.
Also by Robert Louis Stevenson | View all
Also in the Sterling Unabridged Classics series | View all