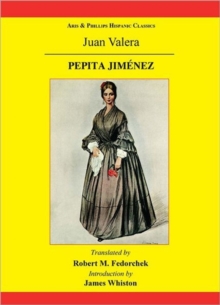 Pepita Jimenez: A Novel by Juan Valera
Paperback / softback
Description
Juan Valera y Alcala-Galiano (1824-1905), one of 19th-century Spain's most well known authors, had a career in the diplomatic service with postings in Europe and the Americas.
A serious student of his own and foreign literatures, Valera wrote novels, short stories, essays and literary criticism.
Fluent in a number of languages, he also translated Longus's Daphne and Chloe from Greek into Spanish.
The unifying thread of his creative work is "art for art's sake," that is, beauty as the end and purpose of imaginative literature, an ideal epitomised by Pepita Jimenez , long considered one of the best half dozen novels of 19th-century Spain. When it was first published in 1874, Pepita Jimenez became an instant success.
Translations abound, as do the number of editions, upwards of fifteen, many of them annotated, some of them illustrated.
It tells of Luis de Vargas, a devout twenty-two-year-old seminarian who has come home to visit with his father before entering the priesthood.
The storyline unfolds when he meets a comely twenty-year-old widow named Pepita Jimenez and has his religious calling put to the test.
On the heels of a fictitious prologue, Valera gives the reader multiple perspectives.
The first part of the novel is epistolary in form, letters that Luis writes to the Dean, who is both his uncle and his mentor at the seminary, and everything - people, places, and activities - is filtered through his eyes.
The second part reverts to the traditional all-seeing narrator of the realist novel, while the third consists of letters that Pedro de Vargas, Luis's father, writes to his brother the Dean.
Information
Format: Paperback / softback
Pages: 295 pages
Publisher: Liverpool University Press
Publication Date: 01/01/2012
Category: Classic fiction (pre c 1945)
ISBN: 9780856688867
Also in the Aris & Phillips Hispanic Classics series | View all