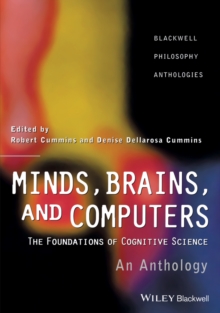 Minds, Brains, and Computers : An Historical Introduction to the Foundations of Cognitive Science
Paperback / softback
Description
This book presents a vital resource -- a comprehensive interdisciplinary selection of seminal papers in the foundations of cognitive science, from leading figures in artificial intelligence, linguistics, philosophy, psychology, and neuroscience.
The collection is organized around three broad conceptions of the mind: the mind as computer program, the mind as a neural network, and the mind as brain.
Each category includes papers that articulate the conception in question, papers that illustrate it, papers that interpret or criticize it, and papers that provide necessary technical background.
Finally, there is a section of classic papers on four broad questions which have shaped contemporary thinking in cognitive science: What is innate in the mind?
Is the mind a seamless whole, or is it made up of independent modules that differ significantly from each other?
Are our ordinary mental concepts, such as belief, desire, and intention, a good starting place for a scientific understanding of the mind, or are they artifacts of a pre-scientific conception that should be discarded?How should biology generally, and the evolution of animals in particular, constrain our theories about mental phenomena?
Taken together, these papers give a sense of the history of the field as well as its contents by presenting the argumnets, models, data, and experiments that most crucially influence theory and practice in cognitive science.
Information
Format: Paperback / softback
Pages: 564 pages
Publisher: Basil Blackwell Inc, US
Publication Date: 25/11/1999
Category: Cognitivism, cognitive theory
ISBN: 9781557868770
Free Home Delivery
on all orders
Pick up orders
from local bookshops
Also in the Blackwell Philosophy Anthologies series | View all