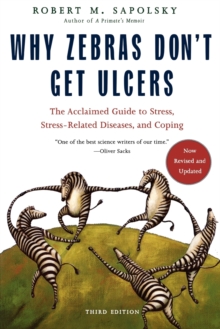 Why Zebras Don't Get Ulcers
Paperback
Description
Now in a third edition, Robert M. Sapolsky's acclaimed and successful Why Zebras Don't Get Ulcers features new chapters on how stress affects sleep and addiction, as well as new insights into anxiety and personality disorder and the impact of spirituality on managing stress.
As Sapolsky explains, most of us do not lie awake at night worrying about whether we have leprosy or malaria.
Instead, the diseases we fear - and the ones that plague us now - are illnesses brought on by the slow accumulation of damage, such as heart disease and cancer.
When we worry or experience stress, our body turns on the same physiological responses that an animal's does, but we do not resolve conflict in the same way - through fighting or fleeing.
Over time, this activation of a stress response makes us literally sick.
Combining cutting-edge research with a healthy dose of good humour and practical advice, Why Zebras Don't Get Ulcers explains how prolonged stress causes or intensifies a range of physical and mental afflictions, including depression, ulcers, colitis, heart disease, and more.
It also provides essential guidance to controlling our stress responses. This new edition promises to be the most comprehensive and engaging one yet.
Information
Format: Paperback
Pages: 360 pages
Publisher: St Martin's Press
Publication Date: 15/09/2004
Category: Coping with stress
ISBN: 9780805073690
Free Home Delivery
on all orders
Pick up orders
from local bookshops
Reviews
Showing 1 - 5 of 7 reviews.
Previous | Next
Review by the_awesome_opossum
16/06/2015
This is a scary, scary book, no kidding. Stress is caused by everything and is going to end up killing you!~ Sapolsky has done a ton of research about how stress affects health, and Why Zebras Don't Get Ulcers is a good break-down for the non-science crowd about how a lot of it works. He does throw around technical terms sometimes; don't get bogged down in them. And try not to stress about how to avoid stress after reading this :-)
Review by bragan
16/06/2015
An in-depth look at the nature of stress and the effects that it has on our bodies. The main idea here is that our reaction to stress evolved to be useful in a particular kind of acute, fight-or-flight situation, but the biological responses that are very helpful when you're spending ten minutes running away from a lion can be anything but helpful when you're sitting around all day fretting about how you're going to pay your mortgage. Actually, just reading this book can be pretty stressful, with its endless litany of horrible things that your worrying is probably doing to your body right this minute, although the author does at least try to end things on a comforting and hopeful note.This is definitely for people who are interested in the biological details of what happens in our bodies under stress: which hormones are released when, what they do, how they interact with each other, and how they have the effects they have. It was, perhaps, sometimes a little more detail than I really wanted, but Sapolsky leavens it all with humor and a pleasantly informal style, and does a good job of not insulting the reader's intelligence while being entertainingly sympathetic about how confusing some of it is.The version I have is the third edition, published in 2004, which apparently is significantly revised and contains a couple of new chapters, including one on sleep and stress, a topic that is particularly relevant to me as a shift-worker.
Review by joannasephine
16/06/2015
If you have any interest in popular science, or are curious about what exactly stress does to the human body (and why), then make a beeline to this book. It's funny, intelligent, very approachable, extremely well researched, and brilliantly well written. Somewhere between Oliver Sacks/Robert Winston and VS Ramachandran in style, with the accessibility and enthusiasm of the former meeting the erudition of the latter. Strongly recommended for curious minds everywhere!
Review by strandbooks
16/06/2015
Once again a very good non-fiction book recommended by my brother. The idea is that humans bodies react to psychological stressors (paying mortgages, dealing with a boss, spousal arguments) the same way zebras bodies react to being chased by a tiger. Our bodies generate the same type of hormones and close down the long-term mainteance areas to escape from the tiger. Obviously, the zebra doesn't do this day after day and at some point is eaten. So what does all this stress do to our bodies? A lot! It is kind of overwhelming as he spends 90% of the book saying how stress exacerberates and leads to many chronic diseases. Then the last 10% are general things to calm your body/mind so you don't generate the high stress reactors. To me this was very scientific...maybe if you majored in biology you wouldn't think so. I liked all the detailed science of it though as it shows important it is to manage stress since it definitely affects way more than the mind. The portions about poverty or feeling poor and how it impacts people was really interesting too.
Review by chaosmogony
16/06/2015
Brilliant. One of the better popular science books I've read.
Also by Robert M. Sapolsky