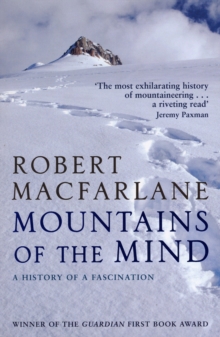 Mountains of the Mind : a History of a Fascination
Paperback
Description
Why do so many feel compelled to risk their lives climbing mountains?
During the climbing season, one person a day dies in the Alps, and more people die climbing in this season in Scotland than they do on the roads. "Mountains of the Mind" pursues a fascinating investigation into our emotional and imaginative responses to mountains, and how these have changed over the last few centuries.
It is rich with literary and historical references, and punctuated by beautifully written descriptions of the author's own climbing experiences.
There are chapters on glaciers, geology, the pursuit of fear, the desire to explore the unknown, and the desire to get to the summit, and the book ends with a gripping account of Mallory's attempt on Everest. "Mountains of the Mind" is a beautifully written synthesis of climbing memoir and cultural history.
Information
Format: Paperback
Pages: 320 pages
Publisher: Granta Books
Publication Date: 01/07/2008
Category: Climbing & mountaineering
ISBN: 9781847080394
Free Home Delivery
on all orders
Pick up orders
from local bookshops
Reviews
Showing 1 - 3 of 3 reviews.
Review by JerryColonna
16/06/2015
A gorgeous meditation on just what mountains mean to us. Lyrical and beautiful
Review by Eyejaybee
16/06/2015
Robert Macfarlane has a great ability to convey his passions without proselytising, and without ever boring readers who don't feel the same degree of obsession. Earlier in the year I read, and was entranced by, his beautiful exploration of ancients routes that have survived into the modern day, "The Old Ways". I had wondered if my enjoyment of that book was, in part at least, driven by my own burgeoning interest in walking as a pastime. However, my enjoyment of this book is not in any way a reflection of any passion for mountaineering of my own - on those rare occasions when I make the mistake of walking from the basement canteen at work up to my fifth floor office, I find myself wheezing and gasping for breath, imagining I am about to start coughing up blood. I might not be quite as feeble as Proust, who claimed to be suffering vertigo after the journey from Versailles to Paris (a route which, over the space of several miles, described a difference in altitude of just 89 metres), but I am not about to break out the ropes and pitons or don any crampons any time too soon. (It does occur to me, though, that if I were regularly to carry an ice axe in open view, I might not be troubled by quite so many nutters when I travel on the Tube.)I do like looking at mountains, though, and that attraction of the peak-bestrewn wilds for the town dweller is another aspect that Macfarlane covers in depth. The idea that mountaineers climb mountains simply because they are there is now almost a given in modern thought, but this has only been the case for a relatively short portion of the human experience. Up until the late seventeenth century mountains were merely seen as obstacles to trade routes to be climbed only when there was no viable alternative route for merchants to circumvent them. The eighteenth century saw a gradual change that accelerated into the nineteenth century, when the vogue for bagging peaks really began. Macfarlane catalogues these developments with awe at the courage or recklessness of Victorian adventurers setting off with no equipment, seldom even bothering to don more appropriate boots. Nowadays the outdoor activity equipment industry is worth billions.Macfarlane's own love of mountains and mountaineering arose from his holiday visits to his grandparents in the Scottish Highlands. He read old accounts of mountaineering expeditions in his grandfathers extensive library, and he went up various Monroes, picking up different rock as he went. His interest in the geology of the mountains is as enticing as his stories about climbing them.He also gives a fascinating concise history of the geology of the major mountain ranges, along with an analysis of changing views of how (and when) the mountains were formed. Once again he handles an area susceptible to technical overload with great adroitness.The book is peppered with recollections of Macfarlane's own mountaineering experiences, often alarmingly self-deprecating in tone, though it is clear that he is an accomplished climber. He offers appealing accounts of some of the great climbing expeditions, too,including the legendary Mallory who made three attempts upon Everest in 1921, 1922 and 1924,, meeting his death on the final one.This was a very entertaining read for a vicarious adventurer such as myself, though I imagine that those more actively involved in mountaineering might also find it very enjoyable.
Review by Steve38
27/08/2015
An early book from Robert McFarlane that shows his talent emerging. Too structured, too reliant on other sources, extracts and summaries. His editor told him to include more 'I' and he was right. Odd glimpses of his later descriptive talents but not many. He can go too far towards sentimentality and nostaligia sometimes but he takes the trouble to see what is around him which many don't.