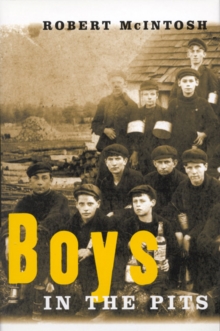 Boys in the Pits : Child Labour in Coal Mines
Hardback
Description
Boys in the Pits shows the rapid maturity of the boys and their role in resisting exploitation.
In what will certainly be a controversial interpretation of child labour, Robert McIntosh recasts wage-earning children as more than victims, showing that they were individuals who responded intelligently and resourcefully to their circumstances. Boys in the Pits is particularly timely as, despite the United Nations Convention on the Rights of the Child, accepted by the General assembly in 1989, child labour still occurs throughout the world and continues to generate controversy.
McIntosh provides an important new perspective from which to consider these debates, reorienting our approach to child labour, explaining rather than condemning the practice.
Within the broader social context of the period, where the place of children was being redefined as - and limited to - the home, school, and playground, he examines the role of changing technologies, alternative sources of unskilled labour, new divisions of labour, changes in the family economy, and legislation to explore the changing extent of child labour in the mines.
Information
Format: Hardback
Pages: 352 pages
Publisher: McGill-Queen's University Press
Publication Date: 17/10/2000
Category: History of the Americas
ISBN: 9780773520936
Also by Robert McIntosh