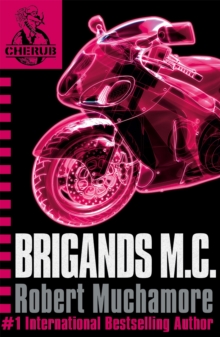 CHERUB: Brigands M.C. : Book 11
Paperback
Part of the Cherub series
Description
The eleventh title in the number one bestselling CHERUB series!
James discovers a love for high-speed motorcycle riding ...
Every CHERUB agent comes from somewhere. Dante Scott still has nightmares about the death of his family, brutally murdered by a biker gang.
Dante is given the chance to become a member of CHERUB, a trained professional with one essential advantage: adults never suspect that children are spying on them.
But when Dante joins James and Lauren Adams on a mission to infiltrate Brigands Motorcycle Club, he's ready to use everything he's learned to get revenge on the people who killed his family ...For official purposes, these children do not exist.
Information
Format: Paperback
Pages: 448 pages
Publisher: Hachette Children's Group
Publication Date: 29/04/2010
Category: Thrillers (Children's/YA)
ISBN: 9780340956465
Free Home Delivery
on all orders
Pick up orders
from local bookshops
Reviews
Showing 1 - 5 of 6 reviews.
Previous | Next
Review by JohnTaggerung
16/06/2015
James is back and he still has his faults but he is a little more mature. We all love James despite the fact that he is a sexist homophobe because we do see progress. This is one of my favorite books of the series. It moves along quite well and has Robert Muchamore's touch of detail and non Hollywood endings. Not everything has to work out as planned. I like the character development in this book. Quite a few pages are spent at the beginning of the book describing Dante and the Brigands which sets up the mission well. If you are a parent and new to the Cherub series you should read them first as they do deal with sexuality, violence and teenagers being teenagers. My son started reading the books when he was 11 years old and I feel they have been helpful for him as he came into and passed puberty. But be aware James is after every girl he sees and he is not the most subtle person in Cherub. The girls and women are always presented as independent and strong which I think makes them good role models.
Review by Brad111
16/06/2015
This book is a very good read for kids my age. It has a mix of fighting action, and comedy. It is a real life book. The thing I most like about this book is that it's not completely fake. It is all made up but it is possible to happen in like. It's not completely out of this world. It's got a mix of glamour and action. Also if you like motorbikes this is the book for you because it is all about motorbikes and motorbike gangs doing outrages things. . . . . . . . . .
Review by SMG-SLieberman
16/06/2015
i loved this book. it has tension danger and romance. i recommend this book to anyone that is looking for a book
Review by 6h.library
16/06/2015
This fabulous book is by Robert Muchamore. He is known for writting lots of CHERUB books. There are 12 in the first series and there is a new one named People's Rebublic in the second one.Brigands starts of with a club named Brigands Motorcycle andBY Tanya
Review by howardt
16/06/2015
Sleepwalker by Robert Muchamore This book is about children who work for the government are trying to find out whether this boys dad was responsible for a plane crashing. I really enjoyed this book because there is always something going on. I would recommend you read the first book of the series so you get to know the characters. I would recommend this book who like action and adventure I would definitely recommend the book and the cherub series.