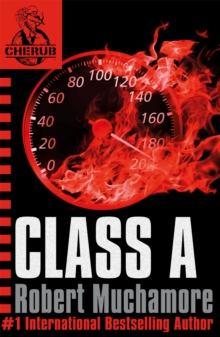 Class A : Book 2
Paperback
Part of the Cherub series
Description
The second title in the number one bestselling CHERUB series!
James' mission is to try where dozens of attempts by undercover police officers have failed ...When CHERUB kids go undercover, no one suspects that they are trained professionals, working to infiltrate criminal organisations that have eluded MI5 and the police for years.
James Adams is on his biggest mission yet, working to nail Europe's most powerful cocaine dealer.
He'll need all his specialist training if he's going to bring down the man at the top.
The reason for CHERUB's existence is simple: adults never suspect that children are spying on them.
For official purposes, these children do not exist.
Information
Format: Paperback
Pages: 320 pages
Publisher: Hachette Children's Group
Publication Date: 14/10/2004
Category: Thrillers (Children's/YA)
ISBN: 9780340881545
Other Formats
EPUB from £4.99
CD-Audio from £9.75
Free Home Delivery
on all orders
Pick up orders
from local bookshops
Reviews
Showing 1 - 5 of 7 reviews.
Previous | Next
Review by LibrarianAbi
16/06/2015
The second in the CHERUB series about a secret junior division of the UK secret service. This one was about the hero, James Adams, on a mission to bring down a mjor drug dealer. The info about drugs was well explained, but I thought showing 12 year olds taking cocaine to excess was a bit much, a few years older maybe. Also strange line about James having coke in his locker at school which I didn't quite understand. Not for younger readers, as the back of the book says. But a gripping read.
Review by SamuelW
16/06/2015
It's quite a relief, as an adult, to come back to the books you loved as a teenager and discover that you still enjoy them as much as you ever did – because quite apart from being pulse-pounding, page-turning thrillers, they're actually well-written. Reluctant and discerning readers alike will get a kick out of <i>Class A</i>: the second novel in Robert Muchamore's ever-expanding <i>CHERUB</i> series. Muchamore has clearly done his homework on this instalment; his fiction owes much of its grit and authenticity to the convincing foundation of facts that underpins it. The choice of subject matter – illicit drugs – is quite appropriate for this highly addictive series, and is skilfully handled by the author. Young readers are likely to come away genuinely discouraged from using cocaine, without feeling at all preached-at, as Muchamore manages to steer well clear of didacticism and preserve his protagonist's bad-boy charm at the same time.James Adams, our thirteen-year-old hero, is a big part of what makes these novels so readable. His character is a deft balancing act between the guy every teenager can relate to and the guy every teenager wishes he was. As such, the mix of empathy and envy he evokes will keep readers riveted to the page for hours. Through James, they can dream themselves vicariously into Muchamore's irresistible world of cars, girls, martial arts and good old friendship and adventure.As the characters of James and his friends continue to develop, Muchamore takes the opportunity to balance all the excitement and peril with a deepening exploration of their relationships with each other. The interaction between James and Junior Moore, for example, has moments of particular poignancy, which land where the exhilarated reader will seldom expect them. The final chapter may feel a little contrived, but until then, this story's emotional layer is managed with remarkable control, providing that last ingredient to round out the novel.Readers who were enthralled by <i>The Recruit</i> will devour <i>Class A</i>, which is just as enjoyable, if not more so. Those who can resist going on to the next instalment will be rare indeed. After all, why stop at two?
Review by tada
16/06/2015
i love all cherb books full stop..or maybe 2 this book was so good my whole family learned about iteven thou its not mytype of book id pick up i love it
Review by sirfurboy
16/06/2015
Second in the Cherub series, James is back in action along with his friends from Cherub. This time there is a cocaine drugs ring to infiltrate and take down, and Cherub are brought in to get close to the children of the drug baron, Keith Moore. These books are good action adventures, in the same vein as Alex Rider. The concept is perfect - how many children have not dreamed at some point of being a secret agent? Look at the success of Alex Rider or the TV programme M.I.High to see how this series will immediately stir the imaginations of its intended audience.The books are gritty. Not realistic exactly, but not stretching the bounds of disbelief too much, but also describing the world much as it is. That makes these books best suited to a young adult audience although I have known children as young as 9 to have read these. They no doubt enjoyed them, but parents of those 9 year olds may prefer to discuss some of the themes in the book. This story was not an epic struggle between good and evil. Instead the good guys have their faults and the bad guys have firendships, loyalty and love. This is a good challenging read for young people.
Review by SMG-MDekker
16/06/2015
Even better than The Recruit!