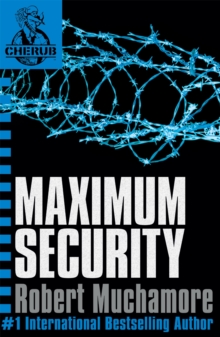 Maximum Security : Book 3
Paperback
Part of the Cherub series
Description
The third title in the number one bestselling CHERUB series!
James has to bust an inmate out of a high-security US prison ...
Over the years, CHERUB has put plenty of criminals behind bars.
Now, for the first time ever, they've got to break one out ...Under American law, kids convicted of serious crimes can be sentenced as adults.
Two hundred and eighty of these child criminals live in the sunbaked desert prison of Arizona Max.
In one of the most dangerous CHERUB missions ever, James Adams has to go undercover inside Arizona Max, befriend an inmate and then bust him out.
CHERUB kids are trained professionals, working in everyday situations.
Their essential advantage: adults never suspect that children are spying on them.
For official purposes, these children do not exist.
Information
Format: Paperback
Pages: 304 pages
Publisher: Hachette Children's Group
Publication Date: 14/04/2005
Category: General
ISBN: 9780340884355
Free Home Delivery
on all orders
Pick up orders
from local bookshops
Reviews
Showing 1 - 1 of 1 reviews.
Review by SamuelW
16/06/2015
After getting off to an impressive start with <i>The Recruit</i> and <i>Class A</i>, Robert Muchamore's bestselling <i>CHERUB</i> series hits something of a stumbling block in <i>Maximum Security</i>. The first few chapters are particularly unimpressive. Muchamore's usual, punchy style is dragged down by extra padding, and our reintroduction to James – a rather unoriginal brawl at a bowling alley – is punctuated by clichés and exaggerations. Lauren's basic training, despite thrusting readers into a bleak Alaskan snowfield, seems to have none of the gruelling boot-camp charisma that James' ordeal did. By the time a suitably challenging task does present itself, the reader's interest will be somewhat dampened. Perhaps Muchamore's editor has adopted a more lenient stance following the success of his first two books.Fortunately, the novel improves as it warms up. The standout, tried and true features of the series are more than enough to save this instalment, particularly the grit and authenticity imparted by Muchamore's research. This novel is probably worth reading just for its accessible insight into life in a young offender's prison. The usual grim glimpses into the characters' flaws and failings help to make it even more convincing, particularly where Curtis Oxford is concerned, and once the break-out gets rolling, there are enough twists and turns to make for an absorbing thriller.Muchamore does not pull free from his flaws completely. Perhaps the most glaring problem is the ease with which the breakout occurs. If all 'maximum security' prisons in the USA are this easy to escape from, there is little wonder that crime is such a problem there. Then there is James' relationship with Vaughn Little, which might have tugged on the heartstrings if the exact same trick hadn't already been used in the previous book with Keith Moore. These faults are disappointing, but they are nothing that the momentum of the series will not sustain.It may not be one of the stronger <i>CHERUB</i> novels, but <i>Maximum Security</i> spins a tight, engaging yarn in under three hundred pages, and the fans should have no trouble devouring it. Thankfully, Muchamore appears to be defying the common trend; so far, his books are getting shorter instead of longer.