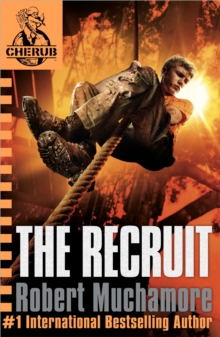 The Recruit : Book 1
Paperback
Part of the Cherub series
Description
The first title in the number one bestselling CHERUB series!
James hits rock bottom before he's offered a new start in an intriguing organisation ...A terrorist doesn't let strangers in her flat because they might be undercover police or intelligence agents, but her children bring their mates home and they run all over the place.
The terrorist doesn't know that one of these kids has bugged every room in her house, made copies of all her computer files and stolen her address book.
The kid works for CHERUB. CHERUB agents are aged between ten and seventeen. They live in the real world, slipping under adult radar and getting information that sends criminals and terrorists to jail. For official purposes, these children do not exist. Praise for the CHERUB series: 'Punchy, exciting, glamorous and, what's more, you'll completely wish it was true' - Sunday Express 'Crackling tension and high-octane drama' - Daily Mail 'A really good book that you could re-read over and over again' - Guardian 'Pacy writing, punchy dialogue and a gripping plot, it's got it all' - Daily Express 'Fast-moving action ...and cool gadgets!' - The Times Visit cherubcampus.com - the essential internet destination, packed with exclusive content and with in-depth biographies of CHERUB characters, out-takes and bonus stories.
Information
Format: Paperback
Pages: 352 pages
Publisher: Hachette Children's Group
Publication Date: 15/04/2004
Category: Thrillers (Children's/YA)
ISBN: 9780340881538
Other Formats
Paperback from £8.49
EPUB from £0.99
Free Home Delivery
on all orders
Pick up orders
from local bookshops
Reviews
Showing 1 - 5 of 12 reviews.
Previous | Next
Review by LibrarianAbi
16/06/2015
First in series about child spy, James Adams. Exciting and gritty, although the kids do seem really young for all the tough stuff they experience...
Review by SamuelW
16/06/2015
Aspiring teenage fiction authors take note: if you want to rake in the fans, this is how to do it. Robert Muchamore's <i>CHERUB</i> series has amassed a formidable worldwide following, and one need only open up a copy of <i>The Recruit</i> – the book that started it all – to see why. Muchamore plays shamelessly on every thirteen-year-old boy's closeted longing to be a secret agent. No matter how many times our protagonist, James, is battered, bruised, drowned or nearly killed in training or on missions, readers will still fantasise themselves into his boots, because to be him would be the coolest thing ever. From the descriptions of his former bedroom – so loaded with gaming consoles that 'it looked like a bomb had gone off in Toys R Us' – to the campus full of karate-kids whose job it is to break into terrorists' houses and smash up furniture, every aspect of this novel is hardwired to scream 'teenage guy's dream'.As fast-paced thrillers go, Muchamore's writing is top-notch. He stumbles a little when it comes to realistic dialogue, but nowhere near enough to unglue his readers from the page. With the help of some convincing (but not cumbersome) background information, a cast of likeable supporting characters and a smattering of brisk humour – all delivered via bite-sized chapters packed with punchy sentences – <i>The Recruit</i> goes from readable to downright addictive without a moment's pause, especially where basic training and the CHERUB campus are concerned.Once James departs on his first mission, the page-turning power wanes a little, but with so much momentum behind it, <i>The Recruit</i> is virtually unstoppable. What Muchamore gives us in the final few chapters is a somewhat sobering reminder of his novel's realism. For all its action-packed charisma, this miniature portrait of intelligence work is coloured with a complexity and depth that complete the book very nicely.The hype is fully justified; Robert Muchamore's first <i>CHERUB</i> novel will grab you, thrill you and leave you eager for more. It's a good thing the series shows no signs of running out any time soon.
Review by pmhlearningcentre
16/06/2015
Category: Spy, action, adventure This book is about a secret organization called CHERUB which uses orphaned children to spy on criminals. This series follows one new recruit James Adams from his recruitment at age 11 to the end of the latest book at 17.The best thing about this book is that you will never know what will turn up next in the series of events.I did not like in this book the distinctly adult themes in some of the later books which would be inappropriate for younger readers.You would like this book if you had previously read the 'Alex rider' series which goes along the same lines as this book.A good place to read this book would be just about anywhere because it is not one of those books where you need to be in a specific place to imaging the scenario This is a great book for anybody from the ages of 11-17.
Review by kings8
16/06/2015
I like it because it's exciting
Review by kings9
16/06/2015
I like the Cherub series because they are all well written and appeal to teenagers