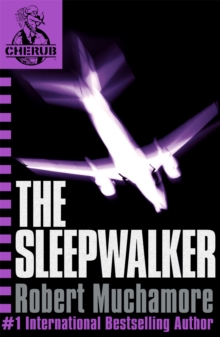 The Sleepwalker : Book 9
Paperback
Part of the Cherub series
Description
The ninth title in the number one bestselling CHERUB series!
James is getting into trouble on campus, while Lauren has an air crash to investigate ...An airliner explodes over the Atlantic leaving 345 people dead.
Crash investigators suspect terrorism, but they're getting nowhere.
A distressed twelve-year-old calls a police hotline and blames his father for the explosion.
It could be a breakthrough, but there's no hard evidence and the boy has a history of violence and emotional problems.
Only CHERUB agents can unearth the truth. They're trained professionals with one essential advantage: adults never suspect that children are spying on them.
For official purposes, these children do not exist.
Information
Format: Paperback
Pages: 336 pages
Publisher: Hachette Children's Group
Publication Date: 07/02/2008
Category: Adventure
ISBN: 9780340931837
Other Formats
EPUB from £4.99
CD-Audio from £9.75
Free Home Delivery
on all orders
Pick up orders
from local bookshops
Reviews
Showing 1 - 5 of 5 reviews.
Review by jsresource
16/06/2015
I think it was a good book but it did not have enough about James Adams
Review by 8F_lahvyou
16/06/2015
CHERUB : The Sleepwalker was a pretty good book, but it didn't quite awe me in any way. I'm not saying it was a bad book, it was alright and I still recommend it to people. Only just make sure you read a different Cherub book before it, or you won't understand.So sad to say, but the main mission in this book kind of sucked. I mean a boy who's father sells air plane parts is purposely rigging them because he's a terroist. Then Fahim finds out and calls the police line to grass on his dad, but decides against it and says it was a prank. That causes CHREUB to look in. They send in 2 agents who straight up tell him who they work for. My favourite parts were the little things, like when Kerry and James get on while painting for punishment or when Lauren went back for James and their friends during a training excersize.This book might turn people off Cherub but i really hope it won't because this is just 1 little half boring book. (This is also @ the SAM library, compliments of mr. Gould!)Please ignore it and read the 10th. CHREUB : The General is next. Can't wait until i get my hands on a copy! Bye for now!
Review by NikhilSuri
16/06/2015
This was a good book but it was a little sad. Also it did not have much about the main character James Adams.
Review by smg-cmcdonald
16/06/2015
it is a really amazing book. it keeps you glued to the page and you never want to put it down. you really wish it was true
Review by SMG-HRaptopoulos
16/06/2015
This book is an in thrilling part of the cherub series, however it is a little disappointing because it doesn't have the, well let say spiciness, of the other cherub books that have been, but this book sets the end up fairly well though