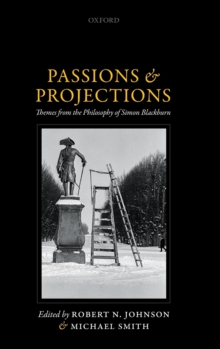 Passions and Projections : Themes from the Philosophy of Simon Blackburn
Hardback
Description
This volume presents fourteen original essays which explore the philosophy of Simon Blackburn, one of the UK's most influential contemporary philosophers.
Blackburn is best known to the general public for his attempts to make philosophy accessible to those with little or no formal training, but in professional circles his reputation is based on a lifetime pursuit of his distinctive version of a projectivist and anti-realist research program.
As he sees things, wemust always try first to understand and explain what we are doing when we think and talk as we do.
This research program reaches into nearly all of the main areas of philosophy: metaphysics, epistemology, philosophy of mind, moral philosophy, and moral psychology.
The books and articles he has writtenprovide us with perhaps the most comprehensive statement and defense of projectivism and anti-realism since Hume.
The essays collected here document the range and influence of Blackburn's work.
They reveal, among other things, the resourcefulness of his distinctive brand of philosophical pragmatism.
Free Home Delivery
on all orders
Pick up orders
from local bookshops