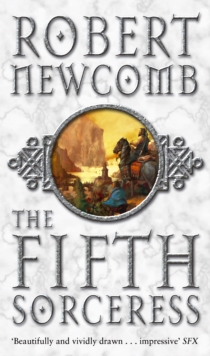 The Fifth Sorceress
Paperback
Description
'Only the four Mistresses remained from the hundreds she had loved, lost and left behind. "Soon, my dear Sisters," she thought. "So many shall pay. Pay for the sins of their ancestors ..."' It is three centuries since the devastating war that all but destroyed the kingdom of Eutracia.
Those who masterminded the bloodshed - four powerful, conquest-hungry sorceresses -- were banished and sent into exile beyond the feared Sea of Whispers, with return all but impossible, death all but inevitable.
Since those dark days, Eutracia has flourished, protected and guided by its council of wizards.
Now a land of peace and plenty, it is about to crown a new king and the spirit of celebration fills every heart.
Except one. Prince Tristan is a reluctant monarch-to-be. Though born with the endowed blood that will enable him to master magic, and destined to succeed his father as ruler of this land and its people, he is a rebel soul.
But more than tradition compels Tristan to ascend the throne.
The very survival of Eutracia depends upon it. For after these long years of peace, dreadful omens have begun to appear, heralding something too unspeakable to ponder. It seems an ancient evil, nurtured over centuries of darkness, has returned and is thirsting for blood, for domination and, above all, for revenge.
Tristan's fate is to fulfil a role chosen for him by an ages-old prophecy - to face an adversary whose hatred knows no bounds and whose greatest weapon is the person he loves most...Not since Terry Goodkind unsheathed the Sword of Truth has such a tale of heroism and magic so captured the imagination.
Brimming with excitement and wonder, dark intrigue and dread enchantments, THE FIFTH SORCERESS marks the beginning of a magnificent fantasy adventure by a remarkable new storyteller.
Information
Format: Paperback
Pages: 896 pages
Publisher: Transworld Publishers Ltd
Publication Date: 01/07/2003
Category: Fantasy
ISBN: 9780553814538
Free Home Delivery
on all orders
Pick up orders
from local bookshops
Reviews
Showing 1 - 2 of 2 reviews.
Review by Uffer
16/06/2015
Okay, let's start with the blurb. Huge, devastating war three hundred years ago, following which the leaders of the losing evil side were, um, banished rather than executed, because obviously they'd learned their lesson and were very, very sorry...? Ah, no. (As we find out quite early on, apparently that would be murder, and therefore a Bad Thing. And they couldn't be imprisoned, because to restrain them you'd have to reduce their powers by starving them and they might die, which would, again, be murder. So you cast them adrift -together - two weeks from shore in dangerous waters in a dinky open boat with five days' food, but that's not murder, because they might survive. So that tells us pretty quickly that the 'good' side are spineless hypocrites. Or just not very bright.)Sorry, where were we? Oh yes, council of wizards more or less in charge. New king shortly, prince with Special Magic Powers due to be crowned. Cue return of 'ancient and unspeakable evil'. But it's all right, apparently there's a prophecy that says the Prince With Special Magic Powers will handle it...I am now left wondering why, with a back cover so loaded with tired old tripe, I am even in possession of this thing. There's a 3 for 2 sticker on it, so maybe it was the third book that day. I still feel robbed, frankly.There seems to be a (not very deeply buried) subtext here of 'man with power = Good, woman with power = Evil', which would be annoying enough, but the unspeakable evil of these powerful women seems mainly to involve non-consensual sex, and it's not even particularly imaginative at that. Hell, the Gor books did that better, and that's saying something.Poorly thought out, poorly plotted, poorly proofed (see Page 18, where the four banishees are described as a blond, a redhead and two brunettes, and then by pages 19 & 20 the leader has grey-streaked black hair and the one standing next to her has jet black hair), overall just... poor.In case you were wondering, I would not recommend this book.
Review by reading_fox
16/06/2015
Poor and fomulaic. Supposedly the start of a series this was enough to put me off wanting to read any more.