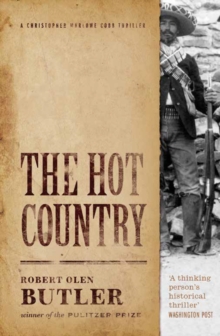 The Hot Country
Paperback
Information
Format: Paperback
Pages: 346 pages
Publisher: Oldcastle Books Ltd
Publication Date: 24/11/2014
Category: Crime & mystery
ISBN: 9781843445630
Free Home Delivery
on all orders
Pick up orders
from local bookshops
Reviews
Showing 1 - 1 of 1 reviews.
Review by atticusfinch1048
16/06/2015
The Hot Country – Great Historical AdventureThe Hot Country by Robert Olen Butler is another Christopher Marlow Cobb "thriller" which according to The Washington Post is 'A thinking person's historical thriller' and part of the literary thriller genre. Never have literary thrillers actually been that thrilling and the same can be said of The Hot Country. If this is a thriller then I am up for the Noble Prize in Literature next year. This is a good historical adventure which in places is stodgy but in others a gloriously written adventure. Christopher Marlow Cobb is a war journalist who is in Vera Cruz, Mexico it is 1914 and Europe is teetering on the edge of war when a German boat drops anchor in the bay not far from a couple of American frigates. It is not the invading American's that stir Cobb's curiosity but a German official who comes a shore and is hidden away in the German consulate. Why would a German be interested in Mexico when the storm clouds are gathering over Europe?To find out more Cobb has to assume the identity of a German so that he able to follow the German to his destination without raising attention to himself. He knows that the German must be heading out to meet the Mexican rebel leader Pancho Villa but what will he be offering, arms or money possibly both? While on the train journey the service is held up by Villa's bandits who rob the train and Cobb is taken with them when he bumbs in to a double agent he knows.He manages to earn Pancho Villa's trust, finds out the German's plans and decides to get back to America as quickly as possible to write the story of his life. Somehow the story gets spiked but means Cobb has to return Mexico and meet with Villa. This is an old fashioned adventure story based on historical fact with everything you expect, blood, lust, money and the US of A coming to the rescue. Well written the prose flows on the pages sometimes it over elaborates but that is my personal opinion. This is a good book for all those that enjoy a historical adventure but it is not a thriller. It is still a pleasure to read, even if you cannot overlook the fact that the Americans are the heroes and revolutionary leaders are backwards fools and the Germans are not much better. At times the imagery this book invokes had me thinking of John Wayne and other western heroes of the silver screen.