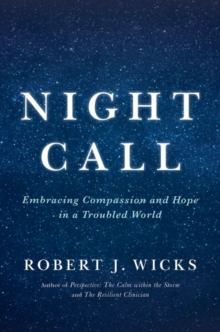 Night Call : Embracing Compassion and Hope in a Troubled World
Hardback
Description
Caring for our family members, friends, and others is a central part of a rewarding life.
For those in healing and helping professions such as medicine, nursing, education, psychotherapy, social work, ministry, and the military, the potential for a meaningful way of being may even become more possible.
But, compassion is not easy. At times, concern for others can be personally devastating when we don't possess the right attitude and approach.
Reaching out (andreflectively within) without being pulled down requires the wisdom that only arises out of the right combination of humility and knowledge. Night Call offers the stories and principles gleaned over many years of writing and mentoring for those in the helping and healing professions.
The stories are offered in ways that foster compassionate caring while encouraging initiative in those who seek to personally deepen and share their lives with others - especially in times of significant need.
With this in mind, Dr. Wicks presents information on:* being a healing presence* mining fruits of the failures all of us must experience at times * the need to enjoy the daily "crumbs of alonetime" * the importance of a spirit of "unlearning" * developing a simple realistic self-care program * valuing informal or formal mentoring* recognizing the "3 calls" to which we must respond to as we psychologically develop* honoring life's most elusive psychological virtue (humility)Purposely brief, the chapters, as well as the sections in the "personal resiliency retreat" section at the end of the book, have as their goal a reconsideration of values, signature strengths, and simple approaches to living a resilient, rewarding life.
Rather than presenting new breakthroughs, Night Call is designed to dust off what most of us already know, at some level, so we can freshly view the key approaches and techniques that provide increased psychological self-awareness and apotentially healthier sense of presence to others.
The themes offered may have been forgotten, or become undervalued/set aside because of some of society's dysfunctional norms or unhelpful family influences.
In response, this simple, countercultural book combines the value of essential self-compassion withcaring for others in ways that provide the impetus for further exploration of a fuller narrative for both the readers of this work and unforeseen opportunities as well for those who are fortunate enough to cross their paths.
Information
Format: Hardback
Pages: 280 pages
Publisher: Oxford University Press Inc
Publication Date: 12/09/2017
Category: Society & culture: general
ISBN: 9780190669638
Free Home Delivery
on all orders
Pick up orders
from local bookshops